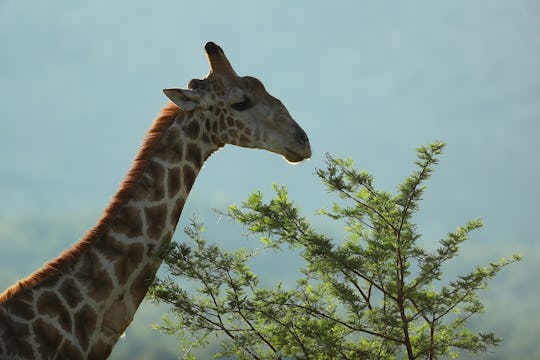 Richard Heathcote/Getty Images Sport/Getty Images
The Columbus Zoo's Giraffe Live-Stream Caught A Baby Giraffe's Birth
Move over April the giraffe, because there's a new labor and delivery giraffe star on the internet. Back in April 2017, a giraffe named April gave birth at a New York Zoo as millions of viewers tuned into live-stream coverage. It was an odd phenomenon, for sure. But for for some reason, people couldn't take their eyes off the live camera as the heavily-pregnant giraffe went past her due date. And today, the Columbus Zoo's giraffe live-stream caught a baby giraffe's birth.
As People reported, the proud new mom is an 8-year-old giraffe named Zuri. She delivered her calf at around 4 a.m. Tuesday, Oct. 30 — and the entire thing was captured by a camera the zoo had placed in Zuri's indoor enclosure. Those who were tuning in at the time got an up-close-and-personal look at the birthing process, thanks to a live feed that's streaming on National Geographic's website. Although the sex of the calf is still unknown, this particular detail and more is expected to be shared within the coming days. For now — to allow Zuri and her baby to bond by themselves — the zoo is continuing to monitor mom and baby through the cameras in the enclosure. The pair appears to be doing well so far.
And according to the Columbus Zoo and Aquarium's Facebook page, Zuri's calf has already taken its first steps and is nursing like a champ. Take a look a the adorable video clip shared by the zoo, below.
Here's something even cooler, for those who missed today's live-feed birth: Zuri and her newborn calf are actually sharing their enclosure with another pregnant giraffe named Cami, according to WCMH-TV Columbus. Which means dedicated followers will get to witness yet another calf being born in the near future.
"I am extremely proud of our dedicated animal care team members, who — due to the incredible bonds they share with the animals — have been able to provide top quality care around the clock to both Cami and Zuri throughout their pregnancies, with additional support from our wonderful volunteers," Columbus Zoo and Aquarium President and CEO Tom Stalf said in a statement, according to the news outlet. "We certainly have a lot to celebrate with the arrival of this calf, and we also look forward to welcoming [Cami's] calf soon as these births mark an important achievement in helping to protect the future of giraffes."
A total of 19 giraffes have been born at the Columbus Zoo, according to National Geographic. However, Zuri's calf and Cami's calf will be the first new arrivals born in the Heart of Africa region since the area first opened in 2014. In the wild, the number of giraffes has declined by more than 40 percent in the past 30 years; there are currently fewer than 100,000 remaining today. This is due to things like poaching, as well has habitat loss, degradation, and fragmentation, according to National Geographic.
As a mom who is in the third trimester with her fourth child, I can't even begin to imagine what a giraffe pregnancy and birth must be like. But I definitely have a new appreciation for human gestation and delivery. That's mostly because giraffes carry their babies 15 months, according to People. (Yikes. Can you imagine?) Furthermore, newborn calves can weigh about 220 pounds at birth and measure around six feet tall, according to National Geographic. Yeah, just no. I'm good with my seven to eight-pound babies who are under two feet, thank you very much.
With that said, I'd still love to tune in when Cami eventually goes into labor. I still don't know what it is about giraffe births and live cams that people (including myself) find so fascinating. But I seriously can't get enough. Congrats to Zuri and her adorable calf!