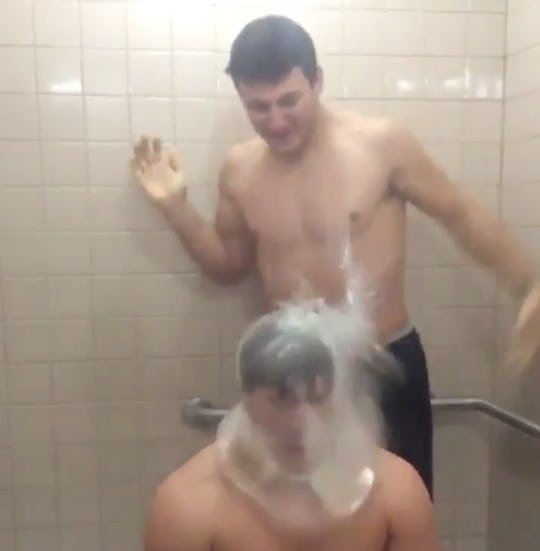 The #CondomChallenge Has Teens Hilariously Making A Very Good Point — VIDEO
The internet is at it again, although this week's trending challenge is as beneficial as it is hilarious. In what has since been deemed the "Condom Challenge", teenagers around the world are filling condoms up with water and dropping them on their friends' heads. While this exercise may seem pointless, it is actually "promoting the idea that women should never accept that a condom is not large enough or doesn't offer enough material strength for a man." Because trust me, if a condom filled with water can stretch around your friend's head without breaking, it can make it around your love interest's junk.
The trend appears to have started in Japan around mid-November after a video was uploaded showing one guy dropping a large water-filled balloon on another guys' head. Instead of breaking, the condom stretches, giving an odd, distorted view of his face until he breaks it himself. It now has over a quarter of a million views on YouTube and over 9,000 retweets on twitter. It has also sparked teenagers from around the world to do the same, spreading an important message in a downright hilarious way: There isn't any reasonable excuse for guys to not wear a condom.
Here are some of our favorite challenges, from the one that started it all to the ones that make us laugh so hard it hurts.