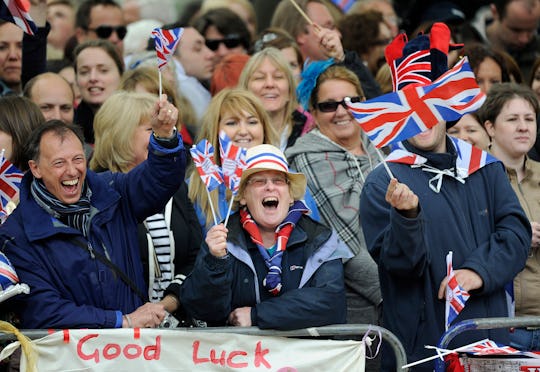 WPA Pool/Getty Images Entertainment/Getty Images
The Crowd Singing "Stand By Me" Outside The Royal Wedding Is Everything
It's true: There are quite a few notable moments that have occurred thus far during the royal wedding that have left everyone swooning (hello, first kiss as husband and wife). But it was Prince Harry and Meghan Markle's choice to have Karen Gibson and The Kingdom Choir sing the R&B classic "Stand by Me" that moved everyone from tears and happy grins to singing along with the ensemble. And while the gospel performance was absolutely dazzling, the crowd singing "Stand by Me" outside the royal wedding was pretty moving, too.
As if it wasn't enough to hear the choir's beautifully powerful voices and see Harry and Meghan looking on (I mean, I had goosebumps everywhere), it was pretty cool to see videos popping up of the loyal crowd outside of St George's Chapel also singing. People held their flags in the air, waved their hands back and forth with the music, and even wrapped their arms around one another and swayed side to side.
Also worth noting? While it was easy for the crowd to join in on the song because it's kind of a hallmark at high school dances and weddings, TIME magazine reported that the couple's decision to include the song points at something bigger. "For many, its lyrics also pack a deep political message," wrote Megan McCluskey. "When 'Stand by Me' first rose to popularity during the civil rights movement, it was used as a rallying cry for solidarity amongst people of color."
McCluskey said that while Markle, whose mother is black and father is white, may not be the first biracial royal, her marriage to Prince Harry "represents a more inclusive royal family." It can be assumed that the choice of "Stand by Me," perhaps, points at that transition.
I'm not going to lie: When the song started playing and my daughter Claire stood and started to sway side to side and sing along, I got a little emotional. Not only because my kid is pretty freaking sweet, but because I, too, sensed a message of inclusiveness. My sister texted me and said, "Please tell me you are writing about this amazing overall message of unity?" Because, quite frankly, it was tough to not feel it.
And it would seem we are not alone. When people heard the choir begin to sing the lyrics and then subsequently the crowd joining in, they also sensed an overall message of solidarity. ABC News tweeted: "A gospel choir, singing the classic R&B song 'Stand by Me,' created a moving moment during the #RoyalWedding of Prince Harry and Meghan Markle."
Ore Oduba (@OreOduba) tweeted: "Hard not to be totally honest when we're all watching something together so historic and so moving. But seeing so many faces like mine in that chapel, on this occasion, with this establishment.. It's filled my heart with utter joy. Stand by me #royalwedding #HarryandMeghan."
And I especially loved Wadzanai, who vowed not to watch the wedding, then found herself tearing up, writing: "A black choir sang 'Stand by Me.' Someone ululated during the vows. I told myself I wouldn't watch it, but here I am..."
Of course, then there was @KathyBurke, who was really just all of us when she tweeted: "Crikey. Stand by Me. It's happening. I'm sat here like a fat old nana beaming through my tears."
Because while you might have shown up for the gown, the vows, and all things royal, you might have been surprised that you are leaving the big day with a feeling of unity in your heart. And that's something we can all — royal or not — get behind, right?