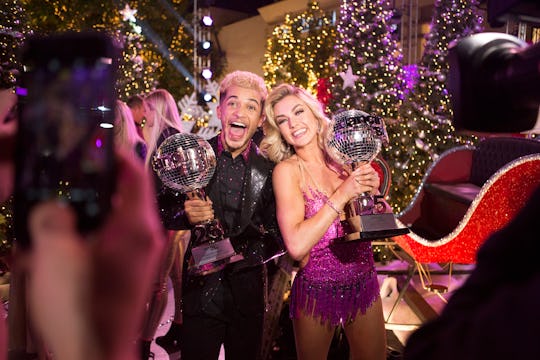 Adam Rose/ABC
The 'Dancing With The Stars' Season 26 Premiere Date Is Almost Here!
I can't explain what's so appealing about Dancing with the Stars. It's hardly the gripping drama, thrilling Sci-Fi, or clever comedy that I usually gravitate towards in my television habits. And yet knowing that the DWTS Season 26 premiere date is almost here is giving me downright chills. In addition to all the other excellent TV I'm pumped to be watching this spring, expect to find me every Monday hunkered down on my couch to painstakingly analyze everyone's form, leg position, and chemistry when the special (and tragically short) season of the much beloved dancing show returns in April.
When Season 25 of Dancing with the Stars wrapped up in November of 2017, host Tom Bergeron announced that Season 26 would be switching things up. The spring season, instead of lasting the usual 10 weeks, would be pared down to just four. And instead of drawing on a wealth of reality stars, former boy-banders, and politicians to populate the ballroom, this season would feature only athletes. Being not exactly a sports fan in my daily life, I was a little bummed at first. That is, until I realized that the spring season would come right after the Olympics, and likely feature several figure skaters and skiing champions who'd recently sped their way into America's hearts like a team of buff, fringe-gloved Elsas.
Season 26 will premiere on April 30 and finish up on May 21, just in time for the premiere of Becca Kufrin's season of The Bachelorette. If you're on the edge of your seat with wanting to know who the contestants will be, you're in luck. The cast will be announced on April 9, giving everyone at least a few weeks to create their brackets and place their bets on who's going to waltz away with the Mirror Ball trophy. This may seem like a cop-out, but I'm pretty sure a figure skater is going to win this thing.
Figure skating, you know, is a lot like ballroom dancing. Except it's on ice. Figure skaters already have a lot of the skills expected of champion ballroom dancers. They're strong. They're flexible. They're graceful. And they know how to position their bodies just so. So naturally there's a pretty long history of figure skaters winning Dancing with the Stars. This list includes ice dancing champion Meryl Davis who won the gold medal at the Olympics in Sochi in 2014, and then went on to win the Mirror Ball trophy just a few months later. Figure skater Kristi Yamaguchi won the trophy in the show's sixth season.
So naturally people are expecting so see at least a couple of skaters from the American team on the show this year — likely contenders being Mirai Nagasu, Adam Rippon, and the adorable "Shib Sibs" Maia and Alex Shibutani. Personally, I would be happy to see any of them compete in the ballroom, though it would lead to a rather stacked deck against other Olympians like, say skier and Very Relatable Teen Chloe Kim or gold medal women's hockey player Hilary Knight. That's not to say I wouldn't love to see them on the show as well (because I absolutely would). And who knows, they're already athletes so they may have some latent dance skills that I don't know about.
In any case, the good news is that there is just about a month left to wait until all is revealed and my favorite not-so-guilty pleasure starts up again. Sometimes you just need to spend a couple of hours judging people in a sport you yourself would spectacularly fail at. You know?
Check out Romper's new video series, Romper's Doula Diaries:
Watch full episodes of Romper's Doula Diaries on Facebook Watch.