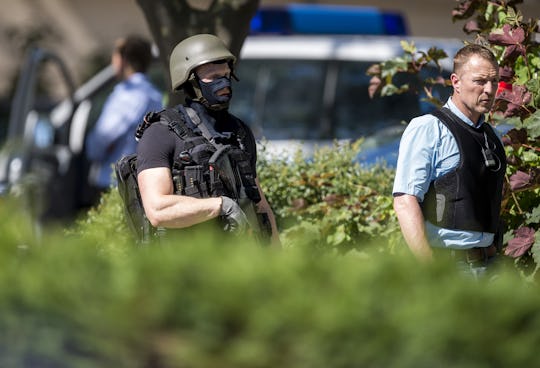 Alexander Scheuber/Getty Images News/Getty Images
The Death Toll In The German Movie Theater Shooting Is Thankfully Nonexistent
On Thursday, a lone gunman had entered the Kinopolis movie theater in Viernheim, Germany, and fired at least one shot. Heavily-armed police officers immediately surrounded the theater and the area surrounding the complex, and within minutes Reuters had confirmed the attacked had been shot and killed by authorities. Initially, the BBC reported at least 20 people had been injured and — for awhile — the death toll in the German movie theater shooting remained unclear. However, the "good news" is that, aside from the gunman, there were no other casualties, and all of the injuries were the result of tear gas, according to the International Business Times.
UPDATE: The Associated Press and Reuters confirm no serious injuries during the movie theater incident in Viernheim, Germany. The gunman, who took theater-goers hostage, has been killed by police, according to authorities.
Peter Beuth, the Hesse state interior minister, explained that many earlier reports were incorrect, according to The Telegraph:
We have no information that anyone was injured...[when] the assailant moved through the cinema complex.
What is true, Beuth explained, is that police stormed the Kinopolis complex after receiving reports that shots had been fired:
[Local police received an emergency call and] the caller said there was a masked man...armed with a long gun.
However, what type of weapon the unidentified assailant had remains unclear, and police still have not confirmed whether the weapon was (or was not) a genuine firearm. "It is unclear whether it was a real gun," he said.
Fatal force was used because, according to Beauth, "police thought that the gunman was holding hostages and because of that he was shot dead." "There were hostages inside and there was a struggle (with police) until in the end he was dead," he added.
According to Germany's DPA press agency, the attack did not appear to be related to extremism or terrorism in any way, and state security services now believe the man was a "confused individual."
Regardless, that has not stopped other cities from going on high alert, and cities across the Atlantic — like New York — have deployed extra officers to movie theaters.
Viernheim is located approximately 40 miles south of Frankfurt, or two hours outside of Germany's fifth largest city.