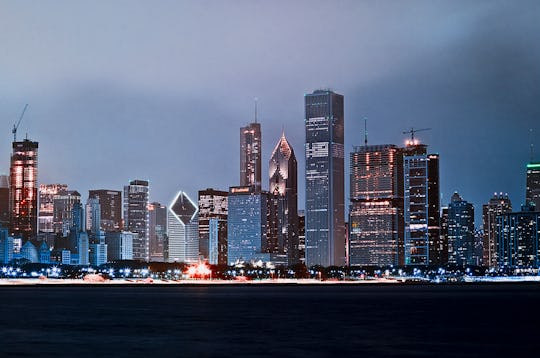 Tony Webster/Flickr
The Department Of Justice Is Investigating The Chicago Police Department, But Will It Really Make A Difference?
On Monday, U.S. Attorney General Loretta Lynch announced that the U.S. Department of Justice will investigate the Chicago Police Department. The Chicago Tribune reported that investigators will look for "constitutional violations" and "a pattern of abuse," then determine whether there is a need for legal action.
In a Monday press release, the Department of Justice stated that the pattern or practice investigation is particularly concerned with potential civil rights violations involving, "disparities in use of force, and its systems of accountability." The increased scrutiny of the Chicago police follows the November release of a graphic video from last year, showing Officer Jason Van Dyke shooting and killing 17-year-old Laquan McDonald. When the incident took place in October 2014, police reported that McDonald advanced on officers with a knife. The video, however, shows McDonald attempting to move past officers, no knife visible, before being shot an alleged 16 times by Van Dyke.
Though the Department of Justice may be taking a step in the right direction, it's unclear whether an investigation — and subsequent efforts to legally enforce change — can actually end a culture of police violence. The Department of Justice press release clarifies that the investigation will look at potentially indicting events involving the Chicago police as an aggregate rather than evaluating them individually; any following legal action will be based on an identified pattern.
The Justice Department has taken similar steps involving a variety of state and local law enforcement agencies, both large and small, in jurisdictions throughout the United States. When investigations result in findings of systemic violations of federal law and the Constitution they have in many instances resulted in comprehensive, court-overseen agreements to fundamentally change the law enforcement agency's police practices. When the department's investigations do not result in findings of violations of federal law and the Constitution the department will close the investigation without an agreement.
Though it's clear that the Department of Justice investigation is extensive, it's difficult to determine whether looking at the situation holistically will answer questions surrounding Chicago's most controversial police-involved incidents. According to the Chicago Tribune, the Department of Justice is conducting an investigation of the Baltimore Police Department and discovered abuses in a separate investigation of the Ferguson Police Department. So far, the findings in Ferguson have led to months of negotiations regarding potential legal action.
In Chicago, some preemptive action is evident. ABC News reports that Mayor Rahm Emanuel fired Police Superintendent Garry McCarthy. He also promises to release video of police shooting 25-year-old Ronald Johnson in October 2014, according to The New York Times; Johnson's family believes police claims that Johnson "pointed a gun at officers" are false. Reporters Monica Davey and Mitch Smith write that there are still plenty of unanswered questions:
Did Mayor Rahm Emanuel's re-election fight play a role in his administration's decision this year to pay $5 million to Mr. McDonald's family members even before they filed a lawsuit? Why did City Hall include a provision in the settlement to keep the video private at least temporarily? And why did it take Anita Alvarez, the Cook County State's Attorney, 13 months to charge the police officer involved in the shooting? She waited until hours before the city was forced to release the video to charge the officer, Jason Van Dyke, with first-degree murder.
That's just one case. The Department of Justice may be able to identify a pattern of violence, but whether they will be able to successfully promote a shift in police culture remains to be seen.
Image: Tony Webster/Flickr