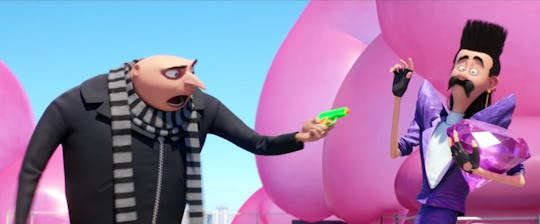 The 'Despicable Me 3' Trailer Features A New Villain From Another Decade — VIDEO
Put down your banana phones, because the first trailer for Despicable Me 3 has just been released! Gru's girls are nowhere to be seen in the teaser, but at least we get a glance at some minions — who have really broken out into their own stars since the original film was released. We also welcome back the voices of Steve Carell and Kristen Wiig, who play Gru and Lucy. The trailer focuses heavily on villain, Balthazer Bratt, played by South Park co-creator, Trey Parker. The character is introduced with bubblegum, and "heist music," also known as Michael Jackson's "Bad" song.
The new nemesis is an embodiment of the '80s. Donning shoulder pads, a gold earring, and a mullet, he pulls out a Rubik's Cube bomb, and challenges Gru to a dance fight. Illumination CEO Chris Meledandri defined the villain as such:
"Balthazar Bratt is a former child star, 'driven to supervillainy as a result of the abrupt cancelation of his TV series when he hit puberty.'"
Balthazer Bratt doesn't look like much of a villain to me, but maybe that's because once you've seen someone moon-walk, the idea of said person being a threat diminishes. In truth, the only fear I would have of this villain is getting gum in my hair. I mean the dude must love him some Hubba-Bubba, since he cloaks the city in the pink, sticky substance. However, we can't really expect sinister from Eric Guillon, original Despicable Me co-director Pierre Coffin, and Minions director Kyle Balda., being that the movie is designed for kids.
Nevertheless, it's surprisingly refreshing to see Trey Parker on board for a film of such innocent nature, considering his raunchy resume. Not only did Parker co-write South Park, he is also most known for penning Orgazmo, Team America: World Police, and the Broadway sensation, The Book Of Mormon. "This is the very first time he had ever been directed by anyone else but himself" said Meledandri about Parker at Universal's CinemaCon. Perhaps Parker's change of pace will help draw an older crowd to the film, or simply add some subtle quips for parents.
Despicable Me 3 comes out June 30, 2017. Until it's debut, we can laugh at Gru's Borat-like, bubblegum getup, and cross our fingers for future trailers featuring sisters Agnes, Margo, and Edith.