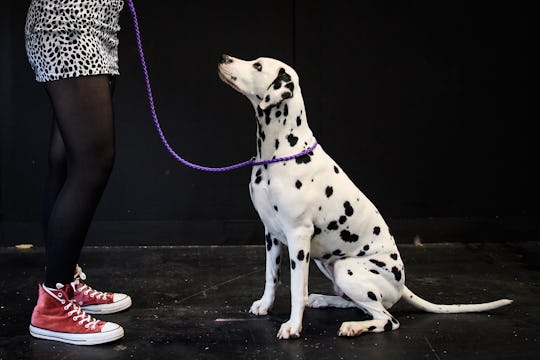 Leon Neal/Getty Images News/Getty Images
This Is The Best Dog Breed For You, Based On Your Myers-Briggs Type
Getting a dog isn't a small investment of time, money or energy. While you might be tempted to consider basic characteristics of different types of dogs, like size or life span, here's another angle you should definitely be considering: your Myers-Briggs score. Choosing a dog based on your Myers-Briggs score can make you first figure out the pieces of your personality that you'll need to consider before you choose a dog breed.
The Myers-Briggs personality test, which determines what kind of personality type you are based on how you choose to use your perception and judgment, can be very useful in figuring out what type of dog you'll mesh best with. Just like people, dogs have different personalities and character traits, based on their breed.
First things first, you need to take the Myers-Briggs type indicator test, which is free and simple and found online. There are certified evaluators for the test, like therapists or counselors, who might be able to give you more insight into the answers, but you can get a pretty good idea by answering the questions yourself and calculating the answers.
Carl Jung, a famous psychologist, theorized that there were different psychological types, and mother-daughter duo Katharine Cook Briggs and her daughter Isabel Briggs Myers came up with a test to put that theory into practice, according to The Myers-Briggs Foundation, and that's how the personality test was created.
Based on your responses to the questionnaire, you'll be given four letters that indicate your personality type: extrovert or introvert, sensing or intuitive, thinking or feeling, and judging or perceiving. Once you have your four letters, you can start figuring out what kind of furry friend to bring home!