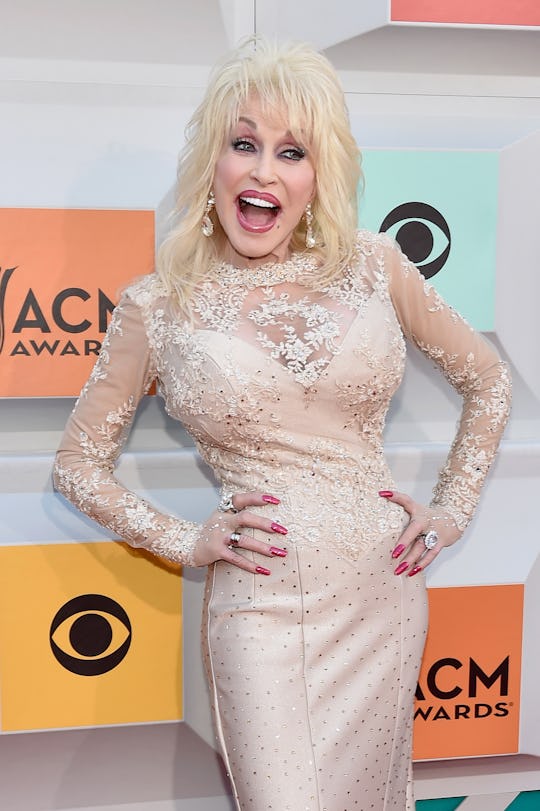 David Becker/Getty Images Entertainment/Getty Images
The Dolly Parton Katy Perry Performance At The ACM Awards Was A Country Music Fan's Dream Come True
On Sunday night, country music legend Dolly Parton and pop superstar Katy Perry performed a duet together, in a rare appearance and real treat for fans of both stars at the 51 Annual ACM Awards. Fans have eagerly been awaiting for these two music legends to take the stage together — their first time singing together — since the Academy of Country Music last month announced the Dolly Parton Katy Perry performance. With a night of performances lined up from some of the biggest names in country music, the Parton Perry performance was definitely a highlight of the evening.
In a sneak peak clip on Twitter from Parton and Perry's ACM Awards rehearsal for Sunday's performance, the singers revealed how their duet for this year's ACM Awards came to be. "I heard I was winnin' an award and I heard that Katy was gonna present it," Parton shares. "And I said, 'Well, if we're going to be together, we have to sing somethin'.'" Perry similarly revealed in the same clip that she "always wanted to do something with Dolly."
Parton wore a brightly colored, sequined blazer invoking the beauty and lyrics of her song, "Coat of Many Colors." Perry was dressed in a satiny hot pink cowgirl getup, complete with matching boots and fringe and gigantic yellow star earrings — a total fashion tribute to her co-star on stage.
The duo opened with "Coat of Many Colors" together, the song and movie of the same name for which Parton received an award Sunday night. From there, Perry absolutely slayed the opening of "Jolene" as the two divas rocked it out together on stage. Just when it couldn't get any better, the pair wrapped up their incredible performance with "9 to 5" — and it was killer.
The pairing of the two music legends together was simply amazing, with rowdy fans at the MGM Grand Garden Arena in Las Vegas, Nevada blown away by their performance. Fans were equally impressed on Twitter, sharing their reactions throughout their song together:
The 70-year-old Parton was awarded the Tex Ritter Award from the Academy of Country Music Sunday night, presented by Perry. Perry noted some of the qualities the two share in common as she introduced Parton for the award:
I was just one tiny sequin on Dolly Parton's gown. Maybe we're cut from the same lamé. We're both known for some of the biggest... 'songs' — in our fields.
The award is given to a movie that prominently features country music from the previous calendar year. Parton's award nod comes for her television movie, Dolly Parton's Coat of Many Colors — which was a ratings success for NBC, so much so that the network scheduled an encore airing of the movie on Christmas Day last year.
Dolly Parton and Katy Perry singing together at the ACM Awards was certainly a once in a lifetime experience — here's hoping it's not the last time we see these two divas share the stage together.