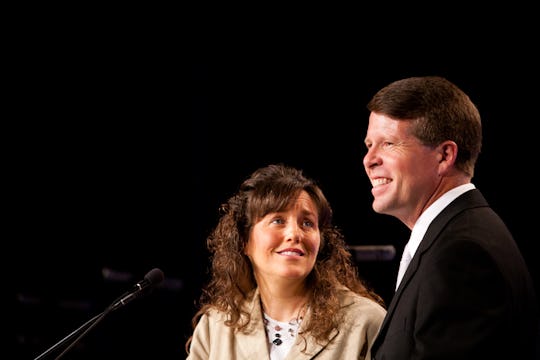 Brendan Hoffman/Getty Images Entertainment/Getty Images
The Duggar Family's Thanksgiving Traditions Obvi Include A Whole Lot Of Food
As kids grow up and come ever closer to leaving the nest, some parents start to despair about the holidays. How much fun will things be when the young ones aren't around to enjoy the magic of the season? But rarely will it seem too long before the kids start having families of their own, and a whole new wave of holiday traditions begin to form. That's the case right now for one of America's most popular — and plentiful —  families. Which has some people wondering what the Duggar's Thanksgiving traditions are that they're starting to hand down to a third generation?
Really, the family celebrates just like so many other families, so it's no surprise that one of their most basic traditions is just getting everyone together. Particularly as the older kids began to grow up, there's no doubt that it just became harder to get everyone together in one place at one time, so holidays like this are extra special. That's one thing Thanksgiving is perfect for, of course.
In 2017, for instance, the family celebrated the momentous occasion of having all the kids and grandkids together in one home with a photo posted to Instagram. "What a great few days we have had with our family celebrating Thanksgiving. We truly have so much to be thankful for!!" they captioned the snap. And in 2018, they commemorated the holiday with a photo of a family recipe for homemade rolls they'd be baking up for Thanksgiving.
After the holiday in 2017, the family wrote on their blog that they "were so thankful to have kids and grandkids under one roof." They added, "Family is really one of the greatest blessings from God and we are especially thankful for our family! We hope your Thanksgiving holiday was just as wonderful!"
Another tradition for the family is one that nearly everyone shares: cooking All The Things. For this family though, that takes on a whole different dimension. Michelle Duggar wrote on her TLC blog that they make 15 pumpkin pies in addition to the traditional turkey, dressing, mashed potatoes, egg noodles, yeast rolls, and dishes that other family members may bring. Surprisingly they get by with just two giant turkeys for the whole family, according to International Business Times, though they cook up four smaller turkey breasts just to be on the safe side. They opt for a midday meal, according to Michelle's blog post, about 1 p.m. so they can spend the afternoon together playing games and spending time as a family. Does that include time for a household post-turkey nap?
Many families also like to participate in a time of giving thanks on the holiday, though for most of us it probably doesn't take nearly as long as it does the Duggars. Before the meal, Michelle shared in her blog that the family gathers together and everyone goes around the room sharing things they are thankful for. "Each person gets a turn. We usually start with the youngest because it's easier for them to go first," she wrote. "By the time it gets around to the older ones, it gets a little harder because we each try to say something different. By going around and expressing gratefulness we get a chance to share and remember all of the important parts of our lives."
On the family's Facebook page, they shared what a great discussion opportunity this time creates to share with the littlest family members what the day is really all about: "Thanksgiving week itself is a good reminder of all we have to be thankful for and creates lots of good discussion opportunities with the little ones about being thankful! I hope your Thanksgiving week is full of love, faith, and family!"
This article was originally published on