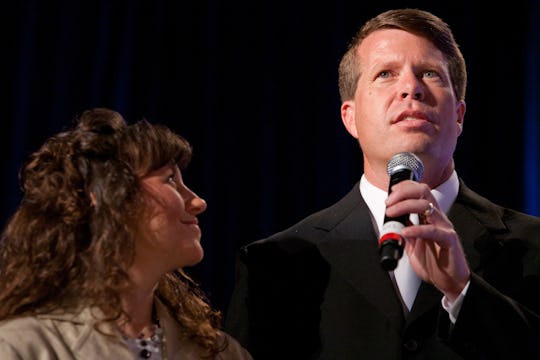 Brendan Hoffman/Getty Images Entertainment/Getty Images
The Duggars' Political Quotes Are Quite Controversial & Divisive
The Duggar family, at first glance, is just a really, really large crew. But they're a really, really large crew due to some of their religious beliefs regarding relationships and procreation. Those beliefs don't sit well with everyone, so it's no surprise that some of the Duggars' political quotes have also been quite controversial, according to The Observer. The family, in general, is super conservative (many of the Duggars support Donald Trump), according to In Touch Weekly, and they've been known to voice a lot of political opinions about a host of issues facing the United States — particularly social issues.
Some of those opinions suggest that women and LGBTQ people are second-class citizens. Mother Michelle Duggar has even spoken at the annual Conservative Political Action Conference (CPAC) about these issues on more than one occasion, according to The Observer. And father Jim Bob Duggar was a Republican member of the Arkansas House of Representations from 1999 to 2002, according to the Duggar family's blog.
Most of the family members have been open about their political opinions throughout the years. They've spoken out about everything from same-sex marriage to abortion and more. And because everyone's entitled to their own opinions, the family is still under the TLC limelight in 19 Kids and Counting and Counting On.
So what exactly have they said? Here are some of their most controversial politcally-charged quotes regarding social issues.
LGBTQ Rights
A number of members of the Duggar family have made it loud and clear that they do not care about transgender people's rights. According to The Observer, Michelle Duggar sent a taped message to residents in Fayetteville, Arkansas, to convince them to vote against a bill that would have protected transgender people by letting them use bathrooms that match their gender identities. She reportedly said in her message that trans people shouldn't be allowed to do so: "I don't believe the citizens of Fayetteville would want males with past child predator convictions that claim they are female to have a legal right to enter private areas that are reserved for women and girls."
Josh Duggar also held a position on the Family Research Council before his cheating scandal led to his resignation in 2015, according to ThinkProgress. The council is vehemently against LGBTQ rights.
During the 2012 presidential election, the family also campaigned for Christian conservative Rick Santorum, whose platform condemned same-sex marriage and birth control. In their 19 Reasons and Counting campaign video, they said that they supported him for being "a defender of traditional marriage, protecting the core of our families."
Oh and there was also that time when Jill Duggar's husband, Derick Dillard, attacked Jazz Jennings of the TLC show I Am Jazz on Twitter, according to the Hollywood Gossip. He tweeted: "I pity Jazz, 4 those who take advantage of him in order 2 promote their agenda, including the parents who allow these kinds of decisions 2 be made by a child."
Abortion
Does anyone remember the time Jessa Duggar and her then-fiancé, Ben Seewald visited the United States Holocaust Memorial Museum in Washington D.C. and shared about the "sobering" experience on her Instagram? She compared the systematic murder of possibly 15 to 20 million people, according to recent research, to abortion.
"May we never sit idly by and allow such an atrocity to happen again," she wrote. "Not this generation. We must be a voice for those who cannot speak up for themselves. Because EVERY LIFE IS PRECIOUS. #ProLife"
In fact, in a 2013 blog post on the family's blog, the Duggars again described abortion as "An American Holocaust," and they used the Holocaust Museum as a segue into discussing their views on abortion, BuzzFeed reported.
"A couple of weeks after we went to the Holocaust Museum, it dawned on us that there is a holocaust taking place right here in America!" Michelle wrote, according to The Huffington Post, but the post seems to have since been deleted.
When Joy-Anna shared her pregnancy news on Instagram, she, too, threw in a political anti-abortion hashtag for good measure, according to She Knows. She captioned the photo: "Can't wait to meet our baby!! I got to feel it kick for the first time a few days ago!!! Soooooo amazing!!! It's already about the size of a bell pepper and weighs around half a pound!!! #childrenareagiftfromGod #westandforlife." But in case the hashtags weren't obvious enough, she also shared a photo of her husband holding a sign by the side of the road reading "Abortion Kills Children."
The Duggar's eldest daughters — Jana, Jill, Jinger, and Jessa — also address women who experience unplanned pregnancies in their book, Growing Up Duggar. "Don't allow anyone to talk you into taking the life of your child," they write. "Your baby is not a blob of tissue! … It's a baby from the time it is conceived."
Women's Rights (Beyond Abortion)
In an interview with Today, Michelle explained that women should always submit to their husband's physical needs. She reportedly said, "Anyone can fix him lunch, but only one person can meet that physical need of love that he has, and you always need to be available when he calls."
Many people want to Duggars off reality TV for these reasons — a petition to "end fear mongering by the Duggars" had even collected more than 192,000 signatures on Change.org. I can't say I blame them.
Check out Romper's new video series, Romper's Doula Diaries:
Watch full episodes of Romper's Doula Diaries on Facebook Watch.