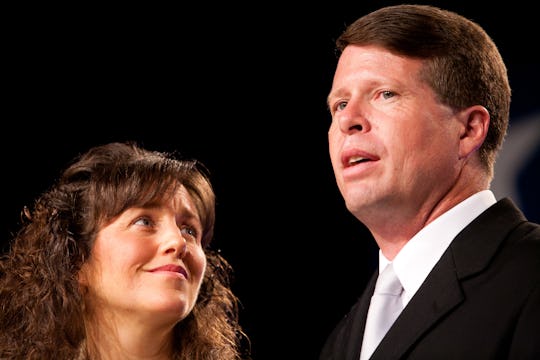 Brendan Hoffman/Getty Images Entertainment/Getty Images
Here Are All The Duggars' Rules For Courtship
Fans of TLC's hit reality show 19 Kids And Counting and its spin-off Counting On know that the Duggars have strict, conservative beliefs when it comes to relationships. Each of the Duggar children have to go through a long, watchful process before they can settle down with their chosen partner. So what are the Duggars' rules for courtship? The list is long, and built on tradition — and mainly focused on the actions of the daughters.
The one thing to keep in mind about parents Jim Bob and Michelle is that they view courtship as "dating with a purpose," according to TODAY. In the Duggar family's view, courtship is a path to marriage, whereas dating is just spending time with someone without a real commitment. The Duggar patriarch said of the family's courtship rules, TODAY reported,
Courtship is really waiting for the one God has for you and praying through the whole process. It's really examining the person and considering, 'Would this be the guy I want to be the father of my kids?'
According to TLC, father Jim Bob Duggar has to approve all courtships. A guy who is interested in one of the Duggar daughters must go through dear ol' dad first. Once Jim Bob fully vets and approves of the suitor, then the courtship process can be begin.
Rule No. 1: Chaperones Are Required During The Courting Stage
Going on a date? Don't expect to go alone. The Duggar daughters are required to have another person present on their dates, according to TODAY. The chaperone could be their parents or any of their siblings — usually one (or two or three) of the brothers. Jim Bob said of the chaperone rule, according to TODAY,
Having that accountability really keeps things from going in the wrong direction. Before you get emotionally attached, you want to know who they are deep inside. That's easier when you have more eyes looking out for you. There are a lot of things you can learn from not pairing off alone.
Rule No. 2: Only Side Hugs Are Allowed
In a July episode of Counting On, Joy-Anna and Austin shared a brief full hug after the Duggar daughter accepted her now-husband's marriage proposal, according to People. Despite being engaged, their full hug, caught on film, broke the "only side hugs" rule. Austin Forsyth said in an interview with People that he and his wife are "only human," adding,
[S]ometimes we don't always abide perfectly by our rules. We try. That was a real hard try.
Rule No. 3: Want To Hold Hands? You Better Have A Ring?
The only time hand-holding is acceptable in a relationship is when the couple is engaged, according to People. Derek Dillard told the magazine in 2014 that he and now-wife Jill Duggar have "been holding hands ever since" he popped the question.
Rule No. 4: Save The Kissing For The Wedding
To the Duggars, kissing is an intimate act that should be saved for your wedding day. That is when parents Jim Bob and Michelle expect their children to share their first kiss with their partners. Jill Duggar once told People during her engagement,
We want to save the physical side of our relationship for our wedding day and not go further than we should. ... Obviously, you can kiss and not have sex. It's about setting a higher standard so you don't struggle [with temptation].
Also, after marriage, the Duggar daughters must follow the "traditional gender roles laid out by their Christian faith," TODAY wrote, and children are expected soon after "I do" is said. Divorce is also not an option.
Rule No. 5: Texting? Make Sure To CC Mom And Dad
The Duggar daughters have no privacy when texting their suitor. Jim Bob and Michelle must be copied on all of the girls' text messages, as well as listen in on their Skype calls, during the courting process, according to TLC. Their watchful eye is meant to "make sure the conversation stays PG and help the girls focus on getting to know their suitors," TLC wrote. Once there's a ring on the finger, then the girls get a little more privacy.
Jim Bob once intercepted a text conversation between Jessa and then-boyfriend Ben Seewald, in which she asks Ben to give her a call, according to TODAY. Jim Bob responded, "No rings yet."