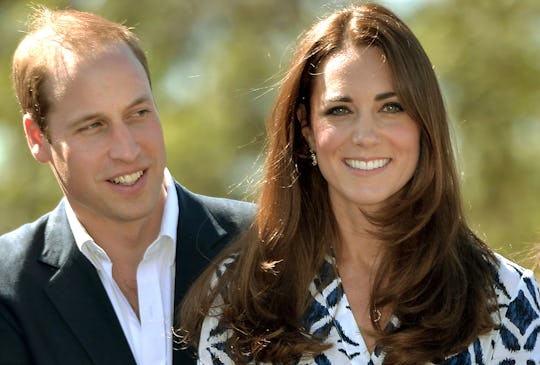 Pool/Getty Images Entertainment/Getty Images
William & Kate Made An Unexpected Choice With Their Kids' Rooms & It's Relatable AF
Listen, people are people. Whether they're celebrities or your next-door neighbor, human beings are all the same in at least one aspect: the fact that they're humans. And the same can be said for royals. Yes, that's right, the Duke and Duchess of Cambridge have IKEA furniture in their kids' rooms, because honestly why spend a ton of money on stuff for your kids that they're going to grow out of or trash in months anyway?
Obviously, Prince William and Kate Middleton are busy parents of two (soon to be three!), and they probably don't have too much time for shopping and updating design in their home. So, it makes sense that on their recent visit to Sweden, home of the world-famous furnishings store, they would reveal that they actually own several pieces of IKEA furniture themselves.
On Tuesday, Prince William and Kate visited the National Museum of Architecture and Design in Stockholm, with IKEA's head of design, Marcus Engman, who took the couple "round an exhibition of a competition for young Swedish designers which Ikea has been involved with since it began 20 years ago," according to the Mirror. And apparently, when they were with Engman, they told him that they used IKEA furniture for their kids' rooms.
Before Engman met with the Duke and Duchess, he explained that he had kind of hoped Prince William and Kate would let him know that they were fans of IKEA. "It would be nice to know if they have any Ikea furniture," he said, according to Hello. "I know that the royals in Sweden have. Why would it not be possible for them? There is a great variety. Our beds are really good, and affordable. You get a lot for your money there." And he isn't wrong.
IKEA United States has several crib options, with prices starting as low as $79.99. And the reviews for IKEA kid's furniture are almost entirely positive. However, that doesn't mean that it would be expected for members of the British Royal Family to own products from the discount furniture store.
After Engman spoke with Prince William and Kate, he told reporters that he was thrilled that the royal couple was aware of how wonderful IKEA truly is. "I'm proud that we can suit everybody," Engman said according to the Mirror. "That's what we want Ikea to be - for the many people of the world, both royalty and ordinary people."
Now, neither Prince William or Kate have actually commented on these reports themselves, but even the mere idea that such high-ranking royalty would own the same furniture as so many of us mere mortals is kind of extraordinary. Additionally, as the Mirror reported, a royal source "was unable to confirm what pieces the family has from Ikea, but said that it was 'very plausible.'" So basically, there's been no official confirmation that Prince William and Kate actually own IKEA furniture or use it in Prince George and Princess Charlotte's rooms, but it's likely that they do.
Royals really are just like us. After all, kids grow out of their clothes and furniture so quickly, that it really isn't worth the hassle of spending too much money on them if you don't want to. Oh, and kids are messy. Seriously, they kind of have a tendency to ruin quality items by just being kids, so who could really blame the Duke and Duchess for wanting to save a little money where they can? After all, with a third kid on the way, the family will definitely want to think a little bit about how they spend their money.
OK, maybe not, because they're literal royals, but whatever. You get my point. Royals, they're just like us.
Check out Romper's new video series, Bearing The Motherload, where disagreeing parents from different sides of an issue sit down with a mediator and talk about how to support (and not judge) each other's parenting perspectives. New episodes air Mondays on Facebook.