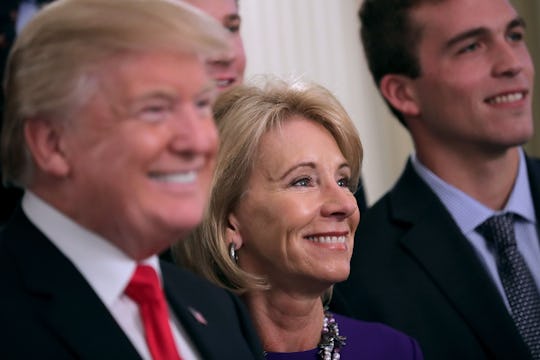 Chip Somodevilla/Getty Images News/Getty Images
How To Protest The DOE's Stance On Transgender Students' Civil Rights
Since Betsy DeVos took office as the United States Secretary of Education, last year, she (along with the rest of the Trump administration) has worked to roll back multiple provisions that protect LGBTQ rights. The latest action taken by the Education Department is one of its most discriminatory yet. The department said it will not look into complaints lodged by transgender students who were banned from their gender's bathroom, according to a new report by BuzzFeed News.
Many argue that the DOE is violating the students' rights by failing to uphold Title IX, which is a 1972 law that prohibits discrimination based on sex in an educational setting. Education Department press secretary Liz Hill responded to the criticism by saying, "yes, that's what the law says," adding that, "Title IX prohibits discrimination on the basis of sex, not gender identity."
She continued to explain that Title IX does not protect transgender students from using the bathroom that corresponds with their gender, though it does protect transgender students from other discrimination. "Where students, including transgender students, are penalized or harassed for failing to conform to sex-based stereotypes, that is sex discrimination prohibited by Title IX," Hill told BuzzFeed News. "In the case of bathrooms, however, long-standing regulations provide that separating facilities on the basis of sex is not a form of discrimination prohibited by Title IX." The DOE has not responded to Romper's request for additional comment.
This statement follows actions taken in February 2017 by the Departments of Justice and Education, when they reversed an Obama-era policy that allowed transgender students to use whichever bathroom corresponded with their gender. The departments did this in response to questions about transgender restroom protections under Title IX, which people previously interpreted to also protect transgender students from not being able to use the bathroom they needed.
As the New York Times reported last year, DeVos was actually against the idea of rolling back bathroom protections for transgender students. However, Attorney General Jeff Sessions (head of the Department of Justice) had opposing views. He reportedly filled Trump in on the situation, Trump agreed with Sessions, and they convinced DeVos to get on board and roll back the protections.
The Education Department's latest statement only takes this act of discrimination further. Additionally, it could mean that bathroom-related complaints filed by transgender students that have yet to be investigated will now not get their day in court.
The Department of Justice (which is led by Attorney General Jeff Sessions) echoed the Department of Education's message in a statement, given to BuzzFeed News. "The Department of Justice cannot expand the law beyond what Congress has provided," an official for the department told the outlet. "The Department of Justice remains firmly committed to protecting the civil and constitutional rights of all Americans, and will aggressively enforce all civil rights laws enacted by Congress."
The American Civil Liberties Union (ACLU) responded to BuzzFeed's report via Twitter on Monday, saying that courts have already declared discriminating against transgender students a violation of Title IX, and that the organization will continue to fight for transgender students.
Transgender students are already at a higher risk for being bullied, so it should be a priority to help protect them and their rights. According to a 2011 study conducted by the National Center of Transgender Equality, 44 percent of transgender students had been physically abused, and 67 percent of transgender students had been bullied online. So when a school discriminates against transgender students for simply trying to use the bathroom, it could have life-threatening effects.
If you want to protest the Department of Education's stance, you can organize a protest (Huffington Post has some great tips), you can educate people via social media about why Title IX actually protects against discrimination on the basis of gender identity, you can donate to the ACLU or the National Center for Transgender Equality, and you can vote for candidates who will protect LGBTQ citizens' rights at the midterm elections this fall.
Check out Romper's new video series, Romper's Doula Diaries:
Watch full episodes of Romper's Doula Diaries on Facebook Watch.