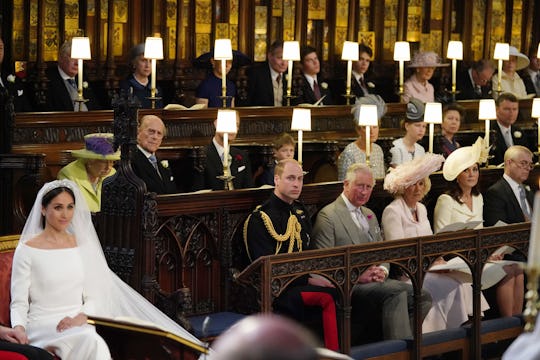 WPA Pool/Getty Images Entertainment/Getty Images
The Empty Seat At The Royal Wedding Has Twitter Convinced It Has A Special Meaning
When Prince Harry, The Duke of Sussex married Meghan Markle, The Duchess of Sussex, Twitter was quick to notice an empty chair next to Prince William, The Duke of Cambridge during the ceremony. Though it's uncertain exactly why the chair was left empty, Twitter rapidly settled on two potential purposes, one of which is practical and the other of which is extremely touching — and tear-jerking.
Though the perhaps more practical reasoning had to do with royal protocol and ensuring no one would sit in front of the Queen of the United Kingdom (and thus, blocking her view), the other theory is that it might have been a sweet gesture to Harry's mother, Diana, Princess of Wales, who died in a car accident in 1997.
The newly-married couple included several special touches that made Harry's mother part of their day. A statement from Kensington Palace noted that Meghan's bouquet included forget-me-nots, Princess Diana's favorite flower. Additionally, as Harry himself noted soon after the Palace announced their engagement, Meghan's yellow gold engagement ring was another subtle nod to his mother, as the two smaller stones in the ring were from his mother's collection, Town & Country reported.
Princess Diana has clearly been an important part of their relationship and was present on their wedding day.
"Oh they'd be thick as thieves, without question," Harry told BBC during the couple's first interview after their engagement was made public, as Town & Country reported. "I think she would be over the moon, jumping up and down, you know so excited for me, but then, as I said, would have probably been best friends - best friends with Meghan. So no it's — you know it is days like — days like today when — when I really miss having her around and miss being able to share the happy news."
Twitter users were clearly on the lookout for any potential ways that the couple might choose to make Princess Diana's presence known on their wedding day.
Better grab those tissues.
Absolutely all the tissues.
People reported that the chair likely was left empty intentionally, but not as a nod to Diana. The magazine pointed out that because the Queen was seated in the second row, seating someone in front of her would have blocked her view of the ceremony. Mothers and grandmothers can likely understand that reasoning, because they wouldn't want to miss a moment of such a special day for their grandchildren either. Plus, with hats and fascinators out in full-force at the royal wedding, as expected, that would've made it all the more likely that the Queen's view would have been impeded.
Kensington Palace hasn't commented on the empty seat or confirmed whether or not the seat was, in fact, intentionally left open as a touching gesture to Diana, but that won't stop people from drawing their own conclusions. Yahoo reported that many people have suggested that Prince William, the Duke of Cambridge and Kate Middleton, the Duchess of Cambridge similarly left a seat empty for Diana at their 2011 wedding. Others, however, noted that that empty seat may have been for the best man, Harry. In the aforementioned article, People reported that the empty seat in front of the Queen wasn't an issue at William and Kate's wedding because the Queen sat in the front row at their Westminster Abbey nuptials.
Whether the empty chair was left for a practical reason, to allow the Queen to see everything, or as a sweet nod to Harry's mother, there's little doubt that Princess Diana was very much present in details large and small throughout the ceremony.