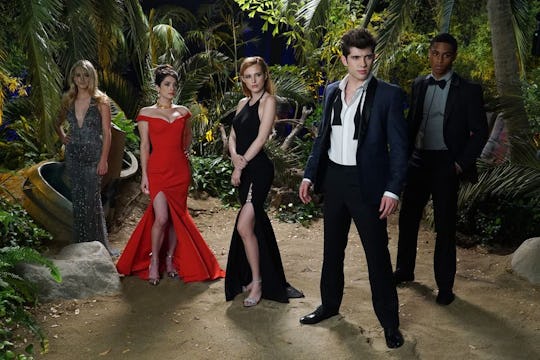 Eric McCandless/Freeform
The 'Famous In Love' Soundtrack Is Full Of Your Favorite Artists
Every good show needs a good soundtrack and Famous in Love definitely has one. The new series by Pretty Little Liars creator I. Marlene King follows Paige (Bella Thorne) as she gets her big break in a Hollywood blockbuster film. As fans follow Paige on this life changing journey, they also get to hear incredible tunes along the way. The soundtrack includes music by Ellie King, Sia, Flo Rida, and more. Even if you don't watch the show, you should give the Famous in Love soundtrack a listen. Unfortunately, the soundtrack isn't actually available, at least not yet, but thankfully I've got the list of songs for you right here.
The music perfectly encapsulates the themes of the show, focusing on living the life of the rich and famous and also what it feels like to be in love. For example, Sia's "California Dreamin'" and "California" by M.A.G.S. are all about the sunny West Coast and dreaming about being there. The show takes place in L.A., which is where Paige obviously wants to be and where she finds success.
There's also plenty of love songs, including "Forever Tonight" by Galantis, "Here With Me" by Susie Suh & Robot Koch, and "Under The Milky Way" by Sia. On the show, Paige finds herself caught in a love triangle between her co-star, Rainer (Carter Jenkins) and her best friend Jake (Charlie DePew). As Paige struggles to find her footing in this new world, she also has her heart being pulled in two different directions, and the music definitely goes along with that.
Famous in Love is also filled with plenty of drama and that can definitely be felt in some of the music. For example, "Lie Lie Lie" by Metric, "Ex's & Oh's" by Elle King, and "Mean What I Mean" by AlunaGeorge are some pretty fitting choices, just to name a few. These songs are fast paced and totally catchy, and you'll definitely remember the scenes you heard these songs in.
The soundtrack also includes other very catchy songs that'll you want to play at your next party. Tracks you'll definitely want to play on repeat include "All Night" by Icona Pop, "Keep It Groovin'" by Extreme Music, "Wham Bam" by Clooney, "Where the Devil Don't Go" by Elle King, and "Zillionaire" by Flo Rida.
There's so many incredible songs used in the show and Thorne even sings at one point in the show, along with Georgie Flores, who plays her best friend Cassandra. During an interview with BUILD Series, Thorne even said she'd love to do more music on the show in the future, which means if there is a Season 2, the soundtrack will only get better.
You can binge-watch Famous in Love on the Freeform app, On Demand, Freeform.com, and on Hulu now.