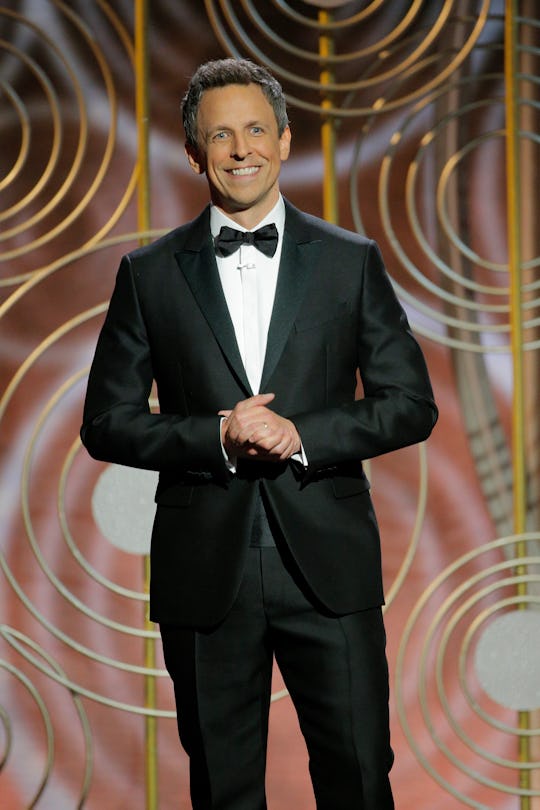 Handout/Getty Images Entertainment/Getty Images
Seth Meyers Included So Many Feminist Moments In His Opening Monologue
Seth Meyers opened the 2018 Golden Globes with a lengthy monologue that didn't hold back when it came to calling out abusive men in Hollywood. All the feminist moments in Seth Meyers' Golden Globes opening monologue showed that wearing black wasn't the only way women were being supported at the ceremony. Before the show aired, many people wondered just how much Meyers would discuss the issues that have been dominating the news for the last few months. However, it would have been impossible to ignore and even more tone-deaf not to comment on. And Meyers definitely commented.
Meyers called out many of the accused men by name, which showed he had no plans to play it safe or talk around the elephant in the room, but he also shared the spotlight. He pointed out the irony of having a white man hosting the Golden Globes after everything that had happened, but he didn't wholly dominate the conversation even though he was the host. There were a lot of moments that stuck out amongst everything he had to say, so they're collected here just in case you missed one or two — or if you just want to relive everything Meyers had to say when the ceremony started.
"Ladies And Remaining Gentleman"
From his opening line, Meyers was ready to go. He started off the evening by welcoming everyone (ladies first) and then by wishing them a happy new year. "It's 2018," he said. "Marijuana is finally allowed and sexism finally isn't!"
Oprah For President
Meyers also did his part to set up for our first woman president by using a little reverse psychology. Some thought his past Trump jokes may have led to the current presidency, so he told Oprah Winfrey that there was no way that she would ever be president. Now we just wait and see.
Naming His Writers
During a "Jokes Seth Can't Tell" segment borrowed from his show, Meyers made sure to mention the female writers involved in the original bit by name: Amber Ruffin and Jenny Hagel. It's a very small thing — literally the least someone can do — but giving them the credit they deserve is important, too.
Age Disparity
"The Golden Globes turned 75 this year..." — Seth Meyers
"But the actress that plays its wife is still only thirty-two." — Jessica Chastain
So many movies feature a central couple in which the female lead is decades younger than her male co-star. Even in real life there is the running joke that as some men get older, their partners seem to stay the same age, or maybe even get younger. Having a woman deliver the punchline made it perfect.
Jokesplaining
Amy Poehler refused to go along with Meyers's setup, instead waving off his mansplaining attempt to tell her how to tell a joke and telling her own exactly how she wanted to.
Activists In The Audience
Meyers then pointed out Saru Jayaraman, one of a few activists from the Time's Up initiative who were invited to attend the ceremony. Shining the spotlight on her was a great way bring the conversation back to reality (though he could've pointed out a few more of the activists attending!).
Meyers finally closed his monologue by honoring the many people behind the scenes on movie and TV sets, the people who could especially benefit from the work of Time's Up: makeup artists and hairdressers, script supervisors and PAs (but not Johnny Paramount). He said that many people who were in that room worked hard to get there, but the women worked even harder. And that's the truth.
Check out Romper's new video series, Romper's Doula Diaries:
Watch full episodes of Romper's Doula Diaries on Facebook Watch.