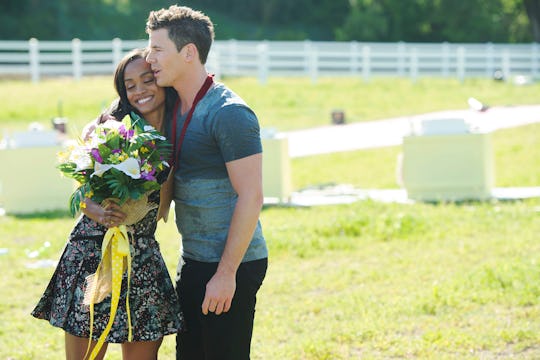 ABC/Michael Yada
Lucas & Blake E. Come To Blows On 'The Bachelorette'
I already had a feeling that Rachel is the best Bachelorette ever, but how she reacted to the contestants on Monday night's episode confirmed it. Not only did she not listen to DeMario when he wanted a second chance (after lying about having a girlfriend), but she also eliminated both Lucas and Blake E. during the rose ceremony. The two have been feuding from the start, and Rachel decided she wasn't going to deal with that childish behavior. The fight between Lucas and Blake E. on The Bachelorette proves Rachel made the right decision.
What was up with Lucas and Blake, anyway? Their feud actually predates The Bachelorette. Both of them were on another reality show together — and it actually seems weirder than Bachelor shows. Instead of 30 people competing to date one person, their previous show, Ex Isle, involves people breaking up on an island and finding a new partner. So... it's a bit like Bachelor in Paradise, but without the fun Bachelor Nation history behind it. Regardless, Lucas and Blake both appeared on the show last year, and that's probably where Blake's animosity for Lucas formed. Looking at Lucas' bio video for Ex Isle, he doesn't appear to be the "whaboom" mess he was on The Bachelorette. He actually seemed... normal?
This could be one reason Blake was turned off by Lucas on this show: he wasn't being his authentic self, and he might've been focused on selling "whaboom" shirts. Since the premiere, Blake voiced how much he hated Lucas. On Monday night's episode, Lucas tried to make a joke of it to Rachel, saying that Blake stood over him in bed eating a banana (definitely more creepy than funny). Rachel confronted Blake about it; while Blake denied it, Rachel didn't seemed pleased. The incident might've brought her back to her camp counselor days.
Rachel was so tired of their pointless feud that she eliminated both Lucas and Blake at the rose ceremony. Blake did not take it well, and had a fight with Lucas afterwards (which involved a very nuanced discussion of what comedy is). Both of them acted immature, slinging insults back and forth, that Bachelor Nation knew why Rachel sent both of them home. Lucas and Blake weren't going to win Rachel's heart while trying to fight each other, and she knew it. Instead of keeping them to make "good TV," she did what her heart told her and sent them home. Honestly, that just makes me want to scream "whaboom."