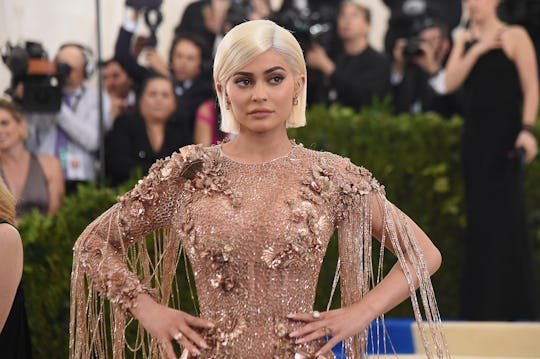 Nicholas Hunt/Getty Images Entertainment/Getty Images
The Final Kardashian Christmas Card Photo Is Here & Fans Have A Lot Of Questions About Kylie
After three long months of "is she" or "isn't she," the Kardashian Christmas card photo has finally spoken — at least for now. On Christmas Day, the final Kardashian Christmas card photo was shared, and much to many fans' surprise, Kylie Jenner did not confirm her reported pregnancy. In fact, Kylie was missing from the card entirely. It has been a long-standing theory that Kim Kardashian's "25 Days of Christmas"-style Christmas card reveal would end on a pregnancy reveal, but fans are left with a pregnant pause, instead.
In late September, People reported from multiple sources that Kylie Jenner, the beauty mogul, was pregnant. She and her boyfriend, Travis Scott, were reportedly expecting a girl, though neither of them actually ever confirmed the news. That's OK, though, because for fans, the reports fueled the next three months of their lives. Reports on names, sex of the baby, future maternity fashion lines... so much came out that a confirmation was essentially the last thing people were worried about.
On top of that, only a few days after Kylie Jenner's pregnancy report came out, a new report broke that Khloé Kardashian was also pregnant and expecting her first baby with boyfriend Tristan Thompson. Much like her younger sister, Khloé remained mums — though teased fans with comments and Snapchat captions calling Thompson "Daddy."
Kardashian later confirmed the reports on Dec. 20, when she posted a black and white picture of her baby bump, accompanied by a touching caption that separated fact from fiction. Kardashian wrote, "My greatest dream realized! We are having a baby! I had been waiting and wondering but God had a plan all along. He knew what He was doing. I simply had to trust in Him and be patient. I still at times can't believe that our love created life!" And on Christmas Day, Kardashian shared another baby bump photo wishing everyone a Merry Christmas, and wishing that her fans "sparkle and shine this festive season," and that all of their "wishes and dreams come true."
Still, Jenner has yet to confirm her reported pregnancy, apparently choosing not to follow in her older sister's footsteps. That's when the "25 Days of Christmas" Kardashian Christmas card theory came into play. Kim Kardashian, who planned the Christmas card this year, began to release one portion of the festive holiday tradition on the first day of December. Every day since, she (and her family) released one more. Fans started to suspect that the card's final images were leading up to something — a big reveal of sorts — which is how fans started the idea that the cards would reveal Kylie's pregnancy. In fact, until Khloé revealed her pregnancy on her own, fans were convinced her baby bump would show on the Christmas card, too.
Then Khloé started appearing in the photos, and fans were instantly confused. This isn't how it was supposed to happen, some thought. In the card, Khloé wasn't pregnant — or at least didn't appear to be. I'm not sure if fans were expecting her to pull a Beyoncé and hold her stomach like a biblical figure while wearing a flower crown, but at first glance, Khloé wasn't pregnant when the Christmas card was taken, and the images confirmed that.
But, that didn't stop people from theorizing. Khloé was always holding a baby (Dream Kardashian) in the photos. In one photo, she was covering her stomach with her niece. Could that be a symbol that she's pregnant? For better or for worse, Khloé's confirmation put the Kardashian Christmas card theories to rest. Well, at least when it came to her pregnancy.
And then there's Kylie. Kylie has been MIA from social media for the most part since her pregnancy rumors began. She wasn't on the current season of Keeping Up With the Kardashians much, though that might have been due to contract issues, and she didn't appear in the Christmas card at all. Why keep the youngest Jenner out of the photo if there wasn't anything to reveal about her? Fans, of course, had some feelings (and some theories).
In the end, Kylie is going to do what every woman, pregnant or not, has the right to do: share intimate details of her life, and her reproductive choices, on her own terms and in her own time.