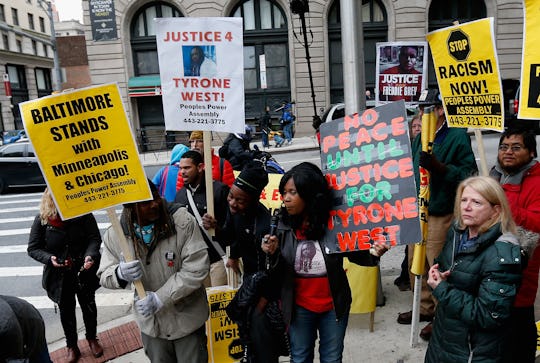 The First Freddie Gray Trial Ends With A Hung Jury & Twitter Users Believe Justice Is Long Overdue
The first trial following the death of Freddie Gray ended in a hung jury Wednesday after jurors couldn't reach a decision. Officer William G. Porter was one of six officers charged in Gray's death, but now it's unclear what will happen to the case. Twitter users following Gray's case reacted to the mistrial with a reserved sadness and dissatisfaction.
Porter was charged with manslaughter, assault, and misconduct in office, according to the Times. Five other officers face charges for Gray's death. CNN reported that it is unclear whether prosecutors will decide to move forward with a re-trial, but the judge plans to set a new date on Thursday.
According to a timeline of the trial by The Baltimore Sun, proceedings began on December 2. On December 7, the defense asked Judge Barry Williams to declare a mistrial after learning that the prosecution did not admit that Gray first injured his back in a separate incident, according to the Sun. State medical examiner Dr. Carol Allan said Gray's death was a homicide because the police did not call a medic upon request and early access to a breathing tube may have preserved Gray's brain. At the time, Williams did not declare a mistrial. But, after 16 hours of no verdict, he declared a hung jury.
Twitter is already reacting to news of the mistrial, and people are generally upset by the lack of a verdict after so much time. (Gray died in April).
The Washington Post reports that 25-year-old Gray was described by friends "as loyal and warm, humorous and happy." By the time police approached him on April 12, 2015, Gray had already "been arrested more than a dozen times" and was convicted multiple times, according to the Post.
A timeline of Gray's story by The New York Times indicates that Gray was arrested that morning. Officers arrested him and he did not resist, but during the arrest Gray reportedly asked for an inhaler. Officers put Gray in a van and started driving, stopping at one point to fill out paperwork and put leg irons on Gray, according to the Times. The van stopped again less than 10 minutes later, then drove on. Paramedics did not receive a call to help Gray until about 45 minutes after his arrest. Gray was taken to Shock Trauma, where he underwent "a double surgery on his spine"; after days in a coma, he died on April 19.
Image: Getty Images