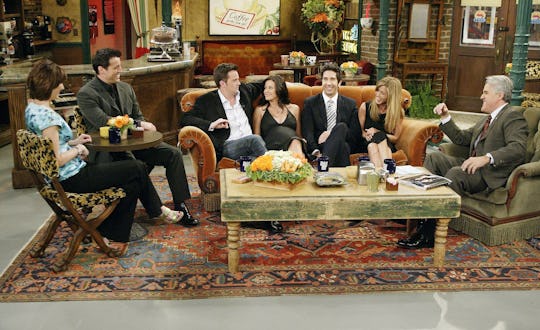 The First 'Friends' Reunion Photo Is Here & It The Best & The Worst Thing Ever
According to Cosmopolitan, the world has Kaley Cuoco to thank for sharing the first photo of the Friends reunion, and there are seriously so many things that need to be discussed as a result. Firstly, Chandler (uh, I mean Matthew Perry) is missing, and that totally sucks — even though, as Vanity Fair noted, he already announced he wouldn't be there. But maybe we could just pretend he was holding the camera? Secondly, the cast of The Big Bang Theory posed together with the Friends cast — a pretty serious mind trip if you're like me and are certain the two shows couldn't possibly co-exist in your mental TV universe.
So, why are these two shows intermingling? It turns out that they are both products of producer James Burrows, which, ultimately, is probably the most important part of this entire photo: as much as this night was hailed a "Friends reunion," the truth is that it was really a night for NBC to honor Burrows' work. Burrows found success with shows like Friends and Big Bang Theory, but also with other major hit series, like Frasier, Cheers, and Taxi, according to Variety. In other words? Well, it wasn't really a Friends reunion at all. It was just most of the cast sitting at a table in a room full of other people who have also been in NBC TV shows that people really liked. With nary a giant cup of coffee in sight. Sigh.
As disappointing as it is to see that the internet's dream of an honest-to-goodness, throwback Friends reunion hasn't even sort of happened, it is still pretty cool to see the cast mostly back together again in the same photo. It's been over a decade now since the show ended, and yet, the show is still popular, most recently thanks to the addition of the entire series on Netflix, according to Forbes.
And for the most part, the actors look just the same as they did last time they were together (except maybe Matt LeBlanc, who kinda looks like he could be Joey's dad — or at least his uncle). And I guess that's enough to satiate viewer's undying need to pretend like Monica, Chandler, Rachel, Ross, Phoebe, and Joey lived happily ever after following the final episode (no? Just me?).
Love you foreva, Friends.
Images: Getty Images; kaleycuoco/Instagram; Giphy (1)