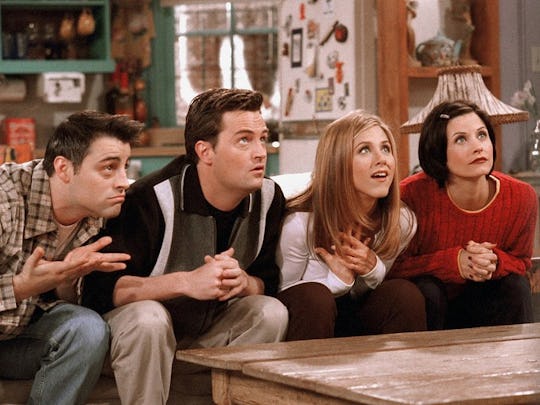 Warner Bros. Television
The First 'Friends' Reunion Promo Is Here & The Cast Is Just As Funny As Fans Remember
Brace yourself, Friends fans: the first promo for the Friends reunion, which is actually a James Burrows tribute, is out, and the cast has come together — once more — to honor the director. And I've gotta be honest with you: Just the sight of them sitting together gave me goosebumps!
The special, which airs Feb. 21, is designed to celebrate Burrows, who recently directed his 1,000th episode of TV. During the special, cast members from many of the shows he directed — including Cheers, Taxi, Frasier, Will & Grace, Mike & Molly, The Big Bang Theory, and, of course, Friends — will chat with host Andy Cohen and answer questions about everything from their characters to sex contracts. (Oh yeah. He went there!)
Unfortunately, the reunion isn't perfect and — insert super sad face — the entire cast won't be present. In January, Matthew Perry said he would not be able to attend due to prior engagements, according to Us Weekly:
The other five are going to be on this special and I am going to introduce them from London...I'm doing the play here [The End of Longing] so I can't be there.
However, we may still see Perry during the Burrows special, at least according to his spokeswoman, Lisa Kasteler, and Variety:
Matthew may tape something for the tribute.
Finger crossed! Because it seems everyone agrees that Friends just isn't Friends without Phoebe, Monica, Rachel, Ross, Joey, and Chandler. (Well, at least everyone on Twitter that is):
That said, is there still a chance for an actual Friends reunion? You know, that long-awaited "one-more time" type episode fans are all hoping for? Burrows told E! News he is doubtful and dubious:
I don't think you should ever go back. I firmly believe in that...[t]hey've talked to us about a Cheers reunion for years and we don't want to do one…I don't think the Friends—I have no control over this…I don't think they'll ever want to do a reunion again. It's what it was and it was a treasure in television…
Friends aired for 10 seasons, from 1994 to 2004. Not only did Central Perk and its cast make it one of the most beloved sitcoms of all time, it also made the series one of those shows which defined a generation — an "I remember where I was when I heard 'Smelly Cat' or when Rachel got off the plane" sorta anchor.
At least some of the cast will come back together, which is both heartwarming and nostalgia-inducing.