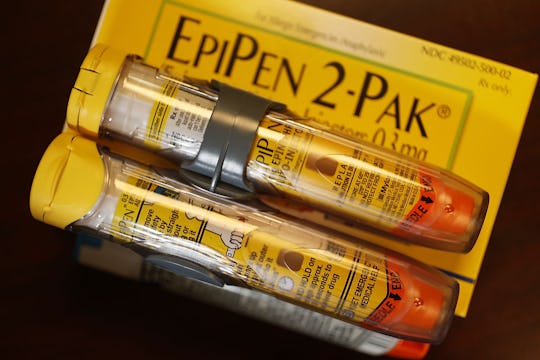 Joe Raedle/Getty Images News/Getty Images
A Generic EpiPen Has *Finally* Been Approved By The FDA
For adults and children who live with severe allergies, having quick access to epinephrine in the event of a bee sting or exposure to a food allergen can mean the difference life and death. This fast-acting medication — usually administered in the thigh with the help of an auto injector — can buy time for someone experiencing anaphylactic shock, so they can be further treated at a hospital. Unfortunately, though, price hikes coupled with supply shortages in recent years has prevented this life-saving medication from getting into the hands of the people who need it the most. Which is why today's news is so amazing for those who suffer from severe allergies. That's because the first generic version of epipen was approved by the FDA — and it's about time.
On Thursday, the U.S. Food and Drug Administration (FDA) approved the first generic version of EpiPen and EpiPen Jr. auto-injectors for emergency treatment of allergic reactions, Business Insider reported. Teva Pharmaceutical Industries Ltd. will soon be producing epipens, bringing new competition to the EpiPen, made by Mylan. "Today's approval of the first generic version of the most-widely prescribed epinephrine auto-injector in the U.S. is part of our longstanding commitment to advance access to lower cost, safe and effective generic alternatives once patents and other exclusivities no longer prevent approval," said FDA Commissioner Scott Gottlieb, according to a news release. "This approval means patients living with severe allergies who require constant access to life-saving epinephrine should have a lower-cost option, as well as another approved product to help protect against potential drug shortages."
As The Washington Post reported, this upcoming generic from Teva is the first deemed to be a therapeutic equivalent of the EpiPen epinephrine auto-injector. (Teva had previously applied for a generic EpiPen in 2016, but it was rejected by the FDA.) This means it can be automatically substituted at the pharmacy counter for prescriptions for EpiPen or EpiPen Jr. — and ideally, save people some money in the long run.
It's unclear how quickly Teva's version of the epipen will become available, or what it might cost, according to The Washington Post. But considering Mylan has hiked its price of the EpiPen from less than $100 in 2007 for a pack of two injectors to $608 today, the competition is a welcomed one for consumers. Add to this price hike an EpiPen supply shortage in certain areas of the U.S., along with a number of class-action lawsuits and a $465 million settlement to the U.S. government for overcharging for EpiPens — and news of an approved generic is sounding even better.
As news of the FDA's approval spread on Thursday, Twitter collectively responded with a resounding, "Finally!" One Twitter user wrote, "Long overdue. Let's all give a middle finger to the price gouging and go generic, shall we? #EpiPen#generic"
Another person tweeted, "Cool maybe I can afford one now rather than risk death or bankruptcy"
Yet another Twitter user pointed out, "But the real, overall, answer is universal healthcare."
Although none of my three children have severe allergies (that we know of yet), my husband is highly allergic to peanuts. For quite some time, he didn't have an EpiPen on hand in the event of coming into contact with nuts. In fact, I'm pretty sure the one he has now is expired. (Which is a scary thought.) So having option of a cheaper, generic epipen is something that will definitely be embraced in our household.
Hopefully, Teva will be able to start offering its version of the EpiPen soon. Because families shouldn't have empty their bank accounts in order to have this life-saving medication on hand in the event of a reaction — or worse, go without entirely.