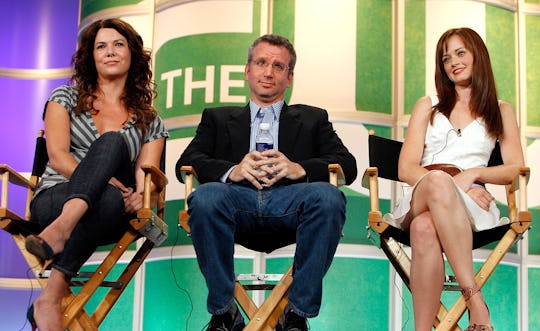 Kevin Winter/Getty Images Entertainment/Getty Images
The First 'Gilmore Girl' Revival Photos Will Take You Right Back To Stars Hollow
The latest issue of Entertainment Weekly is sure to be snapped off the shelves by Gilmore Girls fans all across the country; nay, the world. The magazine is running a exclusive piece on the show revival that includes behind-the-scenes photos. Whether you were an occasional viewer or a Rory and Lorelei super fan, these Gilmore Girls revival photos will take you back. Grab some tissues and cue the nostalgia.
This reboot will not be your average "season." Netflix decided instead to shoot four 90-minute Gilmore Girls episodes. Thus far, fans don't know much about the show's plot. The stars have made very few appearances, and even the publicity for the reboot has been minimal (do they even need to publicize this for fans to be excited?). Because of that secrecy, these photos are getting fans very excited. This is the first glimpse the crew has allowed, and it's confirmed some exciting hypotheses about the Girls' love lives..
Perhaps even better than the exclusive photos is that this EW article includes an in-depth video that goes behind the scenes on the set of the show and gives fans a taste of what it was like to be there at the filming of this highly anticipated reboot. Remember, it's been almost nine years since the show went off the air, and Gilmore Girls fans have been waiting all that time for the story to continue.
The filming is taking place on a Warner Bros. soundstage, and it appears that, in terms of setting, not much has changed. That's the way it is with small towns! The world keeps changing, but Stars Hollow remains the same. Fans can rest assured that this revival will be very true to the original show, right down the smallest details. Part of that is due to the excitement of the cast to get back together, and part of that is due to the fact that Amy Sherman-Palladino is on set making the calls. She created the series back in 2000, and she's been working with Netflix on the reboot to make it exactly what fans of the show have been waiting for.
There was plenty of speculation before, but these photos will set off a whole new wildfire of predictions. In one shot, Lorelei and Luke appear to be holding hands (that could mean anything!), and in another Rory seems to be standing, with authority, in front of a classroom. There will also be some new faces. Sutton Foster, Mae Whitman, and others, will be making guest appearances, but what roles they will play remains a mystery. Basically, for Gilmore Girls fans, this first peek is required reading.