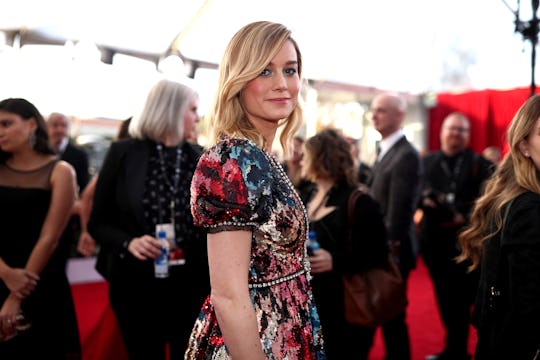 Christopher Polk/Getty Images Entertainment/Getty Images
The First Look At Brie Larson's 'Captain Marvel' Will Get You So Pumped For The Super-Hero Film
Brie Larson gave a few hours of fair warning. On Tuesday afternoon, the actress tweeted out "Hey @EW I'm bored. Wanna break the Internet tomorrow?" News that a first look at Captain Marvel might be on the way quickly started to buzz and Wednesday's first photos of Captain Marvel with Brie Larson did not disappoint. The cover of Entertainment Weekly showed off a powerful, determined superhero who is ready to take her place in the Marvel Cinematic Universe.
But it was the pages inside that have really given fans something to talk about, though even those who aren't in-the-know about Marvel's upcoming hero might want to pay attention. Because Captain Marvel is more than just the first woman to headline a Marvel movie, she's also considered by some to be the most powerful hero in the MCU, according to IGN. Think about that — the first movie starring a woman and she's more powerful than anyone we've seen? With the success of DC's Wonder Woman in 2017, it's exciting to consider that another character could prove the value of female-driven stories.
A quick primer: Captain Marvel is Carol Danvers, an Air Force pilot who gains her powers when an accident fuses her DNA with that of Mar-vell, a Kree superhero played in the upcoming movie by Jude Law, according to Cosmopolitan. (The Kree were last seen in Guardians of the Galaxy 2, as Ronan the Accuser, the main villain, was Kree.)
That backstory may or may not be important to know, but Entertainment Weekly's feature did release the news that it won't be included in the upcoming movie. The story will begin as Danvers already has her powers and is on the Kree world working with their elite unit called Starforce.
The movie will be set in the 1990s, according to Cinemablend, and will showcase Danvers efforts to reconcile her half-human self with the half that is now alien. Co-director Anna Boden (the first female director for a Marvel film) told Entertainment Weekly:
This is not a superhero who's perfect or otherworldly or has some godlike connection. But what makes her special is just how human she is. She's funny, but doesn't always tell good jokes. And she can be headstrong and reckless and doesn't always make the perfect decisions for herself. But at her core, she has so much heart and so much humanity — and all of its messiness.
Her personal efforts will be showcased against the backdrop of an invasion on Earth by the Skrulls, according to Entertainment Weekly, another villain viewers will recognize from Guardians of the Galaxy.
But despite any inner turmoil, Captain Marvel is undoubtedly a super-powerful superhero. So much so that she is the one person Nick Fury thought to call at the end of Avengers: Infinity War when he realized the world's population was being decimated. That symbol that showed up on the pager when it fell to the ground? That was Captain Marvel's.
Of course, since Captain Marvel takes place decades before Infinity War, we won't get any the intel on how Marvel is going to turn back the clock on the film's tragic ending. We will be treated to more Fury though, through a digitally de-aged Samuel L. Jackson, according to Business Insider.
Other photos showcased Larson standing in the fighter plane she flies as a member of the Air Force, and a shot of her fellow pilot and friend Maria Lambeau, played by Lashanna Lynch.
To Entertainment Weekly, Larson elaborated on Marvel as a flawed heroine:
She can't help but be herself. She can be aggressive, and she can have a temper, and she can be a little invasive and in your face. She's also quick to jump to things, which makes her amazing in battle because she's the first one out there and doesn't always wait for orders. But the [not] waiting for orders is, to some, a character flaw.
She sounds like just the woman the world needs. Start the countdown to Captain Marvel in theaters — it debuts in International Women's Day, March 8.