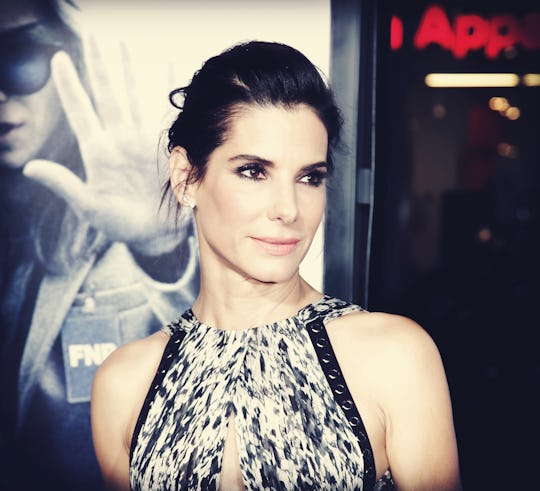 Tibrina Hobson/Getty Images Entertainment/Getty Images
The First 'Ocean's 8' Photo Is All About Fashion
There seems to be something of a mini-trend lately that involves taking an existing film with a predominantly male cast and rebooting it with female characters instead: first there was Ghostbusters and now there's Ocean's 8. As a woman, it can be amazing to see a beloved film reimagined with characters you can identify with; the pictures of little girls with hearts in their eyes at the premiere of Ghostbusters was the definition of heartwarming. It can also feel like a mixed blessing, if only because there needs to be more original content for women too. But I'm not really here to complain, because the first photo from Ocean's 8 is here and it looks amazing.
The cast of Ocean's 8 is as star-studded as the original Ocean films, packed with incredible actresses and exciting celebs. Sandra Bullock stars as Debbie Ocean, assumed by many to be Danny Ocean's (George Clooney's) sister and not a gender-flipped reimagining of the character. Bullock is joined by Cate Blanchett, Rihana, Mindy Kaling, Anne Hathaway, Sarah Paulson, Awkwafina, and Helena-Bonham Carter. The first photo from the film shows them all lounging in a suspiciously clean subway car, serving so much fashion that it's hard to even know where to look.
Fashion seems to be a big part of Ocean's 8. On-set photos have caused a stir because of all the incredible clothes on display, but it's just not a matter of aesthetics; the plot of the film also revolves around fashion as well. The central heist is set to take place at the Met Gala, where the main group of thieves will be surrounded by countless celebrity cameos from Anna Wintour to Zac Posen to Kim Kardashian West.
One could point out that putting such an emphasis on clothes in the female-centric reboot of a heist movie that never had much to do with fashion seems like a gendered move. Could you imagine Clooney and Brat Pitt donning edgy high fashion to infiltrate the Met Gala as the plot of one of the older Ocean films? Glamour is definitely a big part of the franchise, but it was never the centerpiece in quite this way before. Once again, it's a mixed blessing: it seems like a pointed change, but those who enjoy fashion will certainly delight in every stylish offering on display.
Audiences will have plenty of time to figure out how they feel about the film, because the wait for Ocean's 8 will be a long one. The film won't be arriving for over a year, making its debut on June 8, 2018.