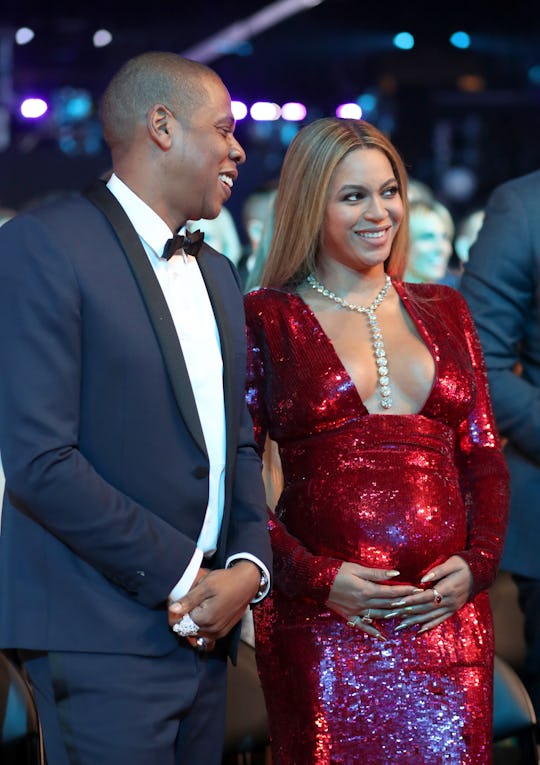 Christopher Polk/Getty Images Entertainment/Getty Images
The First Photo Of Beyonce's Twins Is Magical
Beyoncé has never been one for doing something under-the-radar, and welcoming twins is no different. When it was announced that Beyoncé had given birth in June, all eyes were on social media to see when and where she would release a snap of her new babies. Well, the first photo of Beyonce's twins are here, and as one would expect, they're already going viral.
If you're anything like me, you have push notifications turned on for Beyoncé's Instagram page. Sure, there was no way of knowing exactly how she would reveal the first photo, but judging by her pregnancy reveal, Instagram felt like a pretty safe bet. It had been a rather cold summer so far on Bey's page — she hadn't posted anything since sharing a photo with Blue Ivy on May 30. Even after the news came out that she had given birth, there was still a rather stagnant chill on her account that some fans just couldn't shake.
That is, until July 14, 2017. The day Beyoncé broke the silence that was deafening us all and shared a new beautiful image, see below, of her holding her two twins, with the caption, "Sir Carter and Rumi 1 month today."
For those that remember Beyonce's pregnancy announcement, the vibe of the twins "coming out," if you will, will probably feel similar. After all, it's a photoshoot with Beyoncé in a veil being the Queen of Everything. Additionally, the star is wearing bright purple colors, standing in front of a familiar looking floral alter of sorts. For those that don't remember what Beyoncé's pregnancy announcement looked like, a) allow me to remind you, and b) how have you not engrained this into your head by now?
While we don't have much more to go on, we know TK important things from the photo Bey shared. One, Beyoncé has given birth, officially, to her twins. There were the naysayers who said, "I'll believe it when I see it," well see this, kiddos. Two, Beyoncé has named her twins Sir Carter and Rumi, as confirmed in the Instagram caption.
Technically, before July 14, we didn't know anything for certain, so knowing these two rather vital pieces of information have been confirmed by the Queen herself feels pretty damn good. Now, fans just have to have patience and hope that Beyoncé is interested in sharing more photos of the kids as time goes by. While it's totally her call, let's hope she's feeling generous.