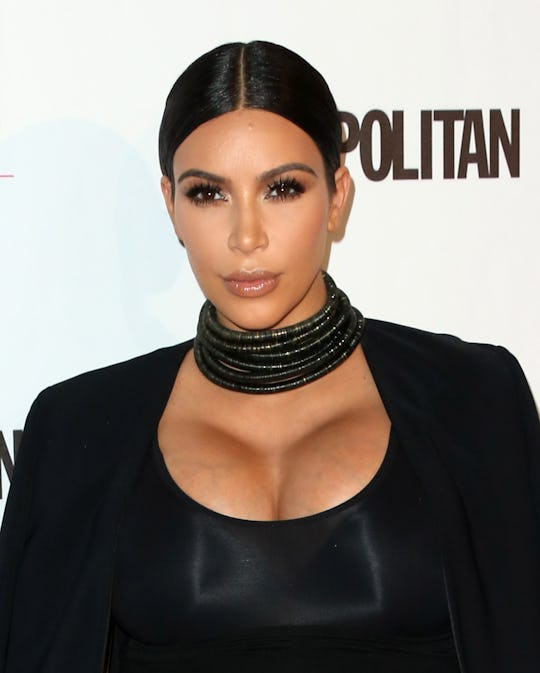 Frederick M. Brown/Getty Images Entertainment/Getty Images
The First Photo Of Saint West Shows That He's A Perfect Blend Of His Famous Parents
The big day is upon us: Kim Kardashian released the first photo of Saint West on her app Monday, according to E! News, and it is just as perfectly sweet as you'd expect it to be. Little Saint is sleeping soundly in the photo (which grandma Kris also shared on Twitter), and is wearing a simple white onesie (though surely he already has a closet full of impressive designer duds). Now that his parents have finally revealed his face — and his deliciously chubby cheeks — it's clear that, like his big sister North, he's the perfect mix of both his mom and dad.
Saint West was born back in early December, but until now, the only photo Kardashian and Kanye West have shared of their son was a cuter-than-life pic of a then-three-week-old Saint holding on to his big sis' finger. But there was an important reason why Kardashian chose Monday to be the day she shared Saint's face with the world: it's the day her late father Robert Kardashian would have turned 72. In a separate post to her Instagram account, Kardashian shared a photo of her beloved father, calling him her "guardian angel." Given how close the two were, there's no doubt her father would be overjoyed to see her now with her two beautiful children.
Of course, when it comes to celeb baby photos, it's pretty much impossible not to look for family resemblances — or to wonder how similar their parents looked when they themselves were babies. In the case of Saint (and North too, come to think of it), he seems to be a mix of both of his parents, but after comparing to some photos of Kardashian and West from their younger days, there seem to definitely be some doppelgänger elements going on, too.
Photos of West as a child aren't nearly as easy to come by as photos of a young Kardashian (but that's not really surprising, given how big she is into social media sharing!). Kardashian did share an adorable pic on Instagram of West as a little boy earlier this year though, proving that there's a good chance that Saint is going to be insanely cute as he grows up (I mean, really, look at that face!).
Thanks to all the photos already shared by Kim, it's pretty clear that North is basically her mini-me — something she herself pointed out on Instagram in this spot-on, side-by-side pic of the two of them:
And judging by the resemblance, it's pretty safe to say that North might look a little something like this as she grows up, too.
(Also, speaking of resemblances, is Kris not Kourtney's twin here?!)
Here's Kardashian with her late father, Robert Kardashian.
So who does Saint resemble most? It's hard to say from one photo, but he might just have more in common with his famous daddy. Although am I the only one who thinks that he looks like North most of all?
Hopefully this is just the beginning of many more photos of the newest Kardashian West — but, let's be honest, when your mom is Kim Kardashian, you know your face is going to be all over the Internet for the rest of time. (No complaints though — more chubby baby cheeks, please!)