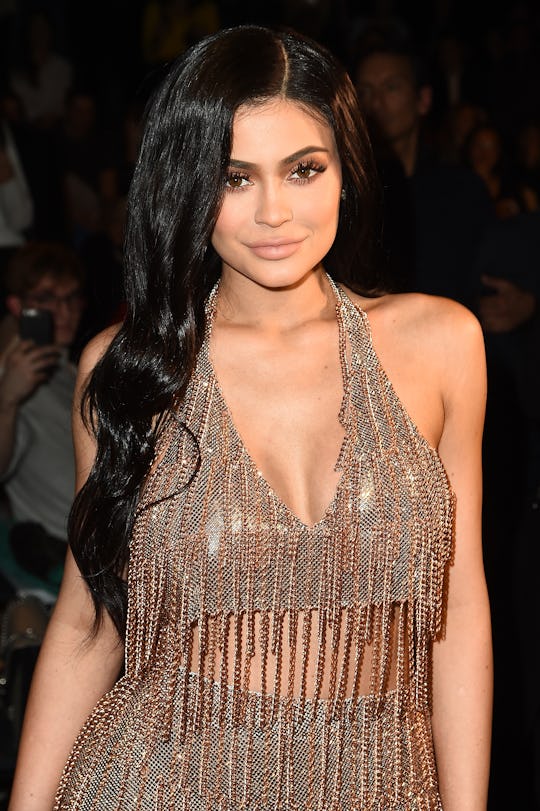 Nicholas Hunt/Getty Images Entertainment/Getty Images
The First Photo Of Stormi, Kylie Jenner's Daughter, Is Here & She Is Absolutely Adorable
On Super Bowl Sunday, Kylie Jenner took to Instagram to announce the birth of her first daughter. The announcement came as a big relief to fans who spent the last nine months speculating about whether Jenner was actually pregnant. Shortly after the pregnancy mystery was cleared up, many people wondered when Jenner would treat fans to a glimpse of the baby. Well, it looks like that moment has *finally* arrived. Yep, the first photo of Kylie Jenner's daughter, Stormi is here, and she's beyond precious.
In the video Jenner posted to YouTube following her announcement, a sweet compilation of footage titled "To Our Daughter," you can see a tiny bit of baby Stormi cradled in Jenner's arms post-delivery. Stormi's face was obscured, however, and it was impossible to discern any of their features. From everything to Stormi's hair color to their face shape, the video left a lot up to the imagination.
So, it's really no surprise that people are freaking out about the first photo of Jenner's daughter. Baby photos are amazing no matter how you slice it, but they're especially awesome when they're attached to so much anticipation and excitement. Not to mention, this photo marks Stormi's first foray into the public eye, which is a big deal. In fact, many people weren't sure if Jenner would ever show fans a snap of her daughter given her privacy concerns.
That all being said, check out the first pic of Jenner's adorable little girl below:
Jenner captioned the photo with a simple "stormi 👼🏽," using the baby angel emoji. It's not yet clear where Jenner got inspiration for the name, but fans are certainly going to need an explanation at some point. As soon as news of the name broke, Twitter users promptly flooded the platform with jokes about how the name sounds like a porn star's name, and puns using Stormi, Chicago, and Reign's names:
I'm not really here for the porn star jokes that are, first, slut-shaming the Kardashian sisters (who often pose nude or post nude Instagram photos), but are also targeting a child. C'mon, the kid is literally five days old and you're making jokes about how her name makes her sound like a porn star... that is the epitome of creepy. But, additionally, who said being a porn star is a bad thing? It's 2018 — get with the damn program.
On the other hand, I am a serious fan of the pun jokes. If the Kardashian-Jenners are attempting to link all of their children's names via some strange weather-naming system then I am here for it. Lots of Twitter users have been combining the Kardashian-Jenner kids' names in some form of the following sentence: It will be Stormi this Friday in North West Chicago with a chance of Reign. Yes.
But then what about Mason and Penelope Disick? I guess you could catch the Chicago Reign in your Mason jar? I took a swing at it.
Anyways, back to the photo: Though you can only see part of Stormi's face and a tiny lil' baby hand, it's clear she's pretty adorable. You can get a glimpse of her round baby cheeks and her lips, which I must say seem to resemble Kylie's if you look closely at them and then at this photo from December:
Aside from the weather jokes and "oohs" and "aahs" over the cute photo, Twitter was also filled with people LOLing over the many (very wrong) names fans thought Jenner would give her daughter:
Most of the internet thought Jenner would name her daughter Butterfly, Mariposa (which is Spanish for butterfly), or Posie for short, because of how often butterflies feature in Jenner's social media and even in her relationship with Travis Scott. The duo got matching butterfly tattoos last June, and Jenner often wears butterfly jewelry, according to E! News. I mean, it all made sense! It added up perfectly! And now, Stormi.
Well, at least we were all right about one thing: that Kylie Jenner was actually hiding a pregnancy for months right under our noses. At least we have that. And now these cute baby photos as consolation. I guess that'll do.
Check out Romper's new video series, Bearing The Motherload, where disagreeing parents from different sides of an issue sit down with a mediator and talk about how to support (and not judge) each other's parenting perspectives. New episodes air Mondays on Facebook.