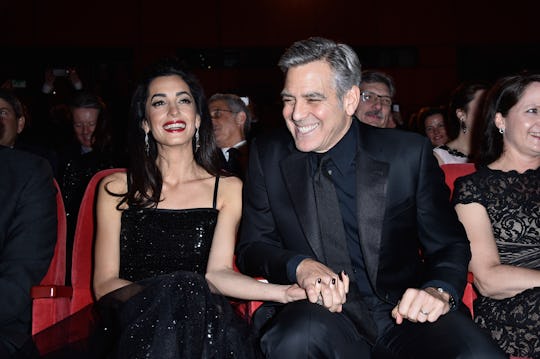 Pascal Le Segretain/Getty Images Entertainment/Getty Images
First Photos Of Amal & George's Twins Might Not Happen
People reported that on Tuesday morning, Amal and George Clooney welcomed daughter Ella and son Alexander Clooney into their family. Now that the news is out, fans are anxiously awaiting the first photos of Amal and George Clooney's twins. But, for now, they should respect the family's privacy and the fact that maybe it will be a few days, or weeks, or months, until the couple does release photos, and that's totally OK.
People confirmed that the twins are healthy, happy, and doing well, and Twitter is rejoicing over news of their much-anticipated birth.
George, 56, Amal, 39, and their families are reportedly "all very happy," a source told People. They absolutely should be, because happy, healthy babies are exactly what every parent wants.
Part of the statement about the birth that was released to the press read, "George is sedated and should recover in a few days," according to The Huffington Post. So it's clear that the new parents still have a sense of humor about the whole situation as well.
What they also have is the right to their family's privacy in these early days. As much as people are eagerly anticipating photos of the newborn twins, it could be a long time before the new parents are ready to share their children with the world.
Although George "has been open about his and Amal's journey to parenthood," according to the Huffington Post, E! News reported that George and Amal are "notoriously private," so it's likely that they may keep photos of their twins under wraps for awhile — years, even.
E! News suggested that Amal and George "will probably shield their kids from the paparazzi as much as they can," and that their children will be able to have a "quiet, private upbringing," if their parents so choose, as the couple has several private residences, and no official social media accounts.
Plus, the Huffington Post reported that these are the first children for either of them, so Amal and George may be even more inclined to keep their children to themselves and nest in their own little world for awhile.
And that's totally fine. They may be very much in the public eye as celebrity figures, but as parents, they have a right to keep their children's lives as private as they like.
And they wouldn't be the first celebrity couple to keep photo of their kids out of the media. TODAY reported on Blake Lively and Ryan Reynolds appearing in public with their daughters for the first time back in December, because it was such a big deal.
The site reported that Reynolds and Lively keep their private lives "extra private" when it comes to their kids — in fact, daughter James was 3 months old before Reynolds revealed her name, and he didn't reveal the name of Ines, who was born in September, until months after her birth, according to Vanity Fair.
So if Amal and George decide to withhold any photos of their children from the media for awhile, that's completely OK. Every parents has to make the decision of what parts of their children's lives to share with the world, and it's likely that a fairly private couple like the Clooney's will keep photos of their newborn twins under wraps — at least for now.