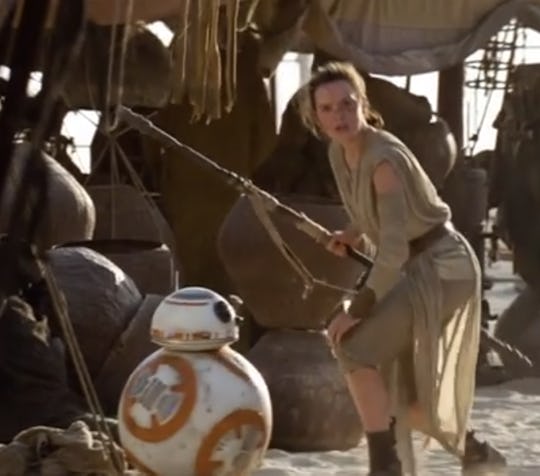 The First 'Star Wars: The Force Awakens' TV Spot Was Released, & Fans Have All The Feels
How to make an entire generation collectively lose their sh*t? Release the first TV spot for Star Wars: The Force Awakens, and watch the world go wild. The commercial, which appeared on Twitter Sunday and features the voice of actress Lupita Nyong'o as Maz Kanata, hints at a new generation on each side of the Force: tough-as-nails Rey (Daisy Ridley) and Finn (John Boyega) versus Kylo Ren (Adam Driver), subbing in for Darth Vader. (I don't know about you, but I can't wait to see the usually-hilarious Driver step into the shoes of one of our favorite villains.)
The last Star Wars film was released a decade ago — yes, I feel old —  so when it comes to this new film, expectations and excitement are definitely running high. It's being directed by J.J. Abrams — whose running list of successes include Lost (I was a hardcore Sawyer fan), Mission Impossible III, and Super 8 — and the cast includes original stars Harrison Ford, Carrie Fisher, and Mark Hamill.
As with any continuation or re-make of a well-loved film, critics and viewers are already drooling for details and criticizing choices, but the cast and creators have remained relatively tight-lipped.
"Why would you want to say anything? I want the audience to experience it. I don't want them to hear about it," Harrison Ford said on Jimmy Kimmel Live recently. Ford played Han Solo in the original trilogy. "I will tell you this," Ford added, "It's really, really good."
A few critics have also reacted to Boyega's presence in the film, arguing that Stormtroopers aren't black in the Star Wars universe. In an interview with V magazine, the Attack the Block actor had a great response to the racist reaction: "I'm in the movie, what are you going to do about it?"
The new Star Wars TV spot features previously unreleased footage from the film, including new "scenes of Rey kicking ass and taking names," as Carly Lane at The Mary Sue put it, plus a new shot of Han in the snow. Fans were both feeling it and putting forth a bunch of questions and theories (well, one theory, really) that the new footage inspired:
Watch the trailer below, and then start the countdown: we're only 39 days away from opening day at theaters. 
Image: Lucasfilm/Youtube