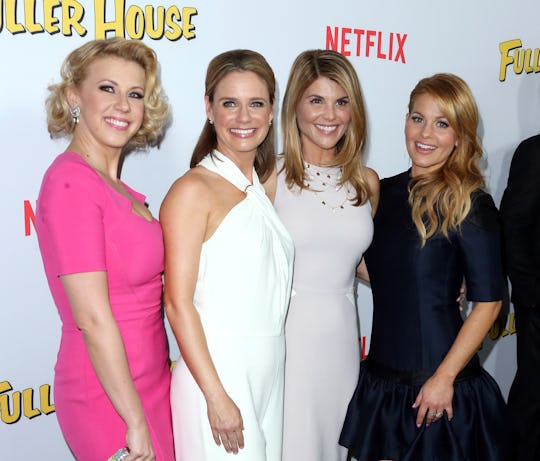 Frederick M. Brown/Getty Images Entertainment/Getty Images
The 'Full House' Cast Supports Jodie Sweetin On 'Dancing With The Stars,' Proving The Tanner Family Is As Strong As Ever
Over the past couple of years, there has been a renaissance of Full House. It's not something to complain about — who doesn't want some Tanner family love in their life? — but they're everywhere. Recently, the Tanner family returned to television in the Netflix reboot Fuller House, starring many of the actors in the original series, including Jodie Sweetin, a.k.a the always adorable Stephanie Tanner. Now, Jodie Sweetin is on Dancing with the Stars, and although it should come as no surprise, the Full House cast is rooting her as any Tanner family-fan would expect.
Sweetin has come a long way from her days of dancing in a neon leotard in a certain famous living room in San Francisco. In the premiere week of the season, Sweetin made her Dancing With the Stars debut with lots of love and support from her on-screen family, the cast of Full House and Fuller House. Sweetin and partner Keo Motsepe pulled in a respectable 20 out of 30 from the judges for their tango, set to Demi Lovato's "Confident."
In an interview with People magazine, Sweetin told reporters of her Full House (and Fuller House) family, "They are so excited. They have known about this for a while and they are just thrilled." The TV family's excitement comes through pretty clearly in their social media posts, which are filled with love and support for Stephanie — eh, sorry — I mean Sweetin.
Almost all the Tanners (plus Gibblers) urged their Twitter and Instagram followers to vote for #TeamMoSweet, including the toll-free number to call when voting for contestants.
Uncle Jesse (John Stamos)
First up is the always reliable Uncle Jesse.
Aunt Becky (Lori Loughlin)
Honestly, Aunt Becky was always the best.
Kimmy Gibbler (Andrea Barber)
Classic Gibbler.
Joey (Dave Coulier)
Straight and to the point.
DJ Tanner (Candace Cameron Bure)
I think you get the point. Bure is very supportive of her TV sister.
Present for the taping of the first episode was Fuller House cast member Juan Pablo DiPace, who plays Kimmy Gibbler's hunky husband on the show. Though DiPace was the only co-star to make it to the premiere taping, Barber, Bure, Coulier, and Loughlin are expected to be part of the audience at some point this season.
There was no word from Mary-Kate or Ashley Olsen, but perhaps that's just because they're too busy running their fashion empire in New York.