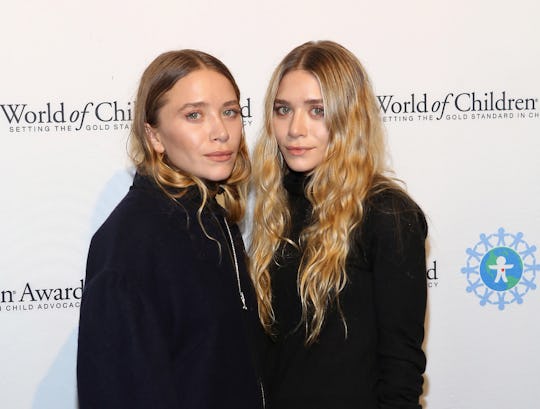 Robin Marchant/Getty Images Entertainment/Getty Images
The 'Fuller House' Dig At Mary-Kate & Ashley Olsen Is So Meta
Even if the Olsen twins aren't in the reboot of Full House, they are certainly there in spirit. The Fuller House digs at Mary Kate and Ashley are so meta you should probably set a Google alert for a Twitter fight soon. The jokes are also hysterical. Starting from the very top, the show explains that "Michelle" is living in New York City, working on her career in fashion and then they all break the fourth wall and stare at the camera for an almost-uncomfortable full minute. But they do not stop there.
Later on, Kimmy Gibbler takes her trendy teenage daughter shopping for her birthday and she comes home glowing about her "first designer dress." It's an Elizabeth James, which is actually the Olsen twins' clothing line. Just to make sure even the non-fashion forward get the gag, Ramona even drops their full names.
Without missing a beat, Kimmy checks the receipt and says "at these prices, it's no wonder they don't have to act anymore." Oh, snap. It's pretty awesome. Of course, it's totally all in good fun. Or is it? There was a lot of miscommunication about the twins joining the case leading up to the release of the series. In fact, Mary-Kate told Women's Wear Daily that they only learned about the reboot after it was in production and she was "shocked" she hadn't heard from Bob Saget or John Stamos.
According to E!, Stamos initially took to Twitter after hearing that statement and said he didn't buy it, but that tweet has since been deleted. Since then, Stamos has said he spoke to the women and gets why they didn't want to come back. He said, "They just have big lives, they haven't acted in a while, but I love them dearly." While the Olsens haven't responded to his remarks or commented on the series since, that seems to be the official line. Multiple sources have spoken to People Magazine and said that the twins mainly didn't want to make an appearance because they haven't been in front of a camera for a while. Nothing more.
Candace Cameron Bure insists that all the jokes about them are just that — playful teasing. She told Us Weekly that the joke in the first episode wasn't even written into the script. The cast just "improvised" but it was so funny and so poignant that they kept it in! I mean, it's a fun poke!" she said.
It sounds like there could be some good gossip there, but no one is spilling the beans. So be it. Also, logistically, would Fuller House had made a joke about there suddenly being two Michelles? If not, who would get to play grown up Michelle — Ashley or M.K.? It totally makes sense in the logical part of my brain that they wouldn't be on the new series. Still, the heart wants what the heart wants. The whole idea of the reboot is so perfectly cheesy that it would have been pretty cool if they had made a Skype call or something in 2016. Alas, we'll have to content ourselves with meta jokes.