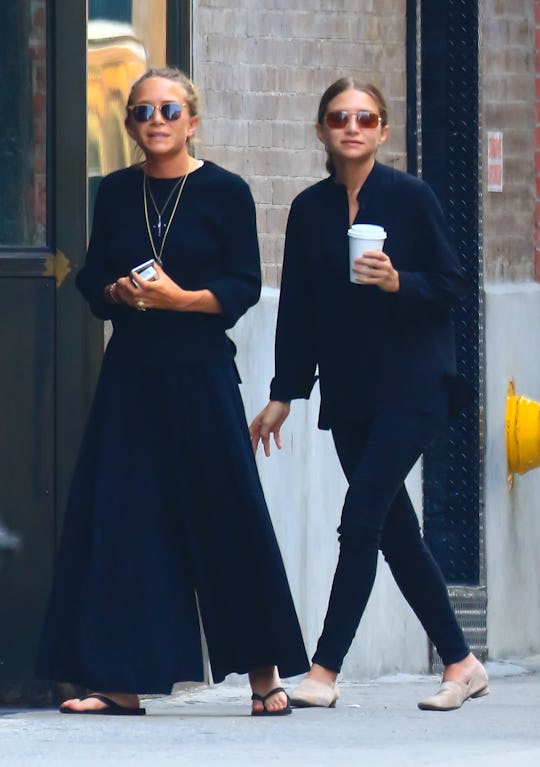 Raymond Hall/GC Images/Getty Images
The 'Fuller House' Mary-Kate & Ashley Reference Is A Total "Wink, Wink, Nudge, Nudge"
Fuller House premiered on Feb. 26 and the gang was all there. Well, except for one notable absence. Actually, make that two. Michelle Tanner, played by Mary-Kate and Ashley Olsen, was missing from the Tanner family breakfast. Even Nicky and Alex managed to stop by for some morning fuel. As Steph would say, how rude! Luckily, the family wasted no time in explaining the youngest Tanner's absence. Fuller House made a Mary-Kate and Ashley reference that cut to the chase, and poked a little fun at television's most famous twins.
Just minutes into the Fuller House, Stephanie Tanner' arrives fresh from England and in the most dramatic way. She then asks in her best Cockney accent, "Where's me little sis?" (Don't worry, she drops the Madonna-esque faux Brit act pretty quickly.) Danny looks around at those assembled (Stephanie, D.J., Uncle Jesse, Rebecca, and Uncle Joey) and casually replies, "Well, Michelle sends her love but she's busy in New York running her fashion empire." What happens next is pretty awesome — and all done in good stride as the six actors break the fourth wall and turn to the audience with a knowing look to raucous laugh track applause and cheers.
It's a not-so-subtle reference to what's been going on for Mary-Kate and Ashley Olsen. After making heaps of cash from their Mary-Kate and Ashley video series during the mid-'90s, the Olsen twins became fashion moguls of their own. Their "fashion empire" began in 2001 when they partnered for a clothing line with Walmart — which was conveniently featured and worn in all of their direct-to-video movies.
The Olsens continued working in the industry and launched their first couture fashion line, The Row, in 2006. They've since launched other fashion lines including Elizabeth and James and Olsenboye for JCPenney. The Olsens have also worked with Badgely Mishka, TOMS, and most recently, Swedish fashion retailer Bik Bok. They are both also creative directors for Italian shoe brand Superga.
The real reason behind Michelle Tanner's obvious absence from the Fuller House reunion is far less glamorous than their New York runway lifestyles: Ashley Olsen no longer considers herself an actress and the timing just didn't work out for her sister Mary-Kate. That's not to say there's not room for them on the Tanner family couch. Executive producer Jeff Franklin told People magazine in January that "the door is open" for the Olsen twins to make a guest appearance on Fuller House — assuming of course, Netflix picks it up for future seasons.
Ahem, Mr. Franklin — to quote Michelle Tanner, "Don't say it if you don't mean it."
Seriously, I'm pretty sure me and my generation will have a collective nostalgia aneurysm if the Olsen twins show back up as Michelle on Fuller House. Until then, we can only continue to suspend our disbelief, imagining Michelle strutting down the runways of New York.