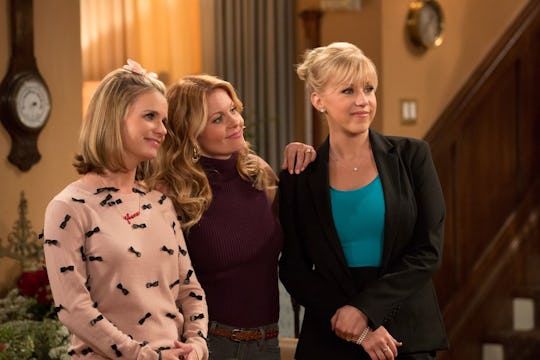 Netflix
The 'Fuller House' Season 2 Trailer Is Here, & The Whole Tanner Family Is Together Again
Whatever happened to predictability? But really. It is very rare for a Netflix show to grant us with two seasons of an original show in one year, but hey — I am not complaining. On Tuesday morning, the Fuller House Season 2 trailer was released, and it appears as if the entire Tanner (plus Gibbler) clan is back together again, this time with more guests, more love triangles, and... and an extra Gibbler? Just in time for the holidays, the Tanner & Co. are coming together to ring in the new year, and possibly form new relationships.
The trailer hints at new love for quite a few key characters on the show. Unfortunately, DJ still seems to be stuck in a love triangle plus some when it comes to Matt and Steve. As she tells her baby son, she's made a decision between the two men who were fighting for her love on Season 1 (which premiered on Netflix earlier this year). Now, as luck would have it, it seems that Matt and Steve both have girlfriends. So what does that mean for DJ? She's probably going to find herself just as torn as she was before, but now with two men who are "unavailable."
DJ's unlucky love cloud doesn't hover over Stephanie, thankfully. It seems that the middle Tanner sister is finding her own love interest... in a Gibbler. Yes, an additional Gibbler is making an appearance this season, Kimmy's brother, Jimmy Gibbler (clever, no?). Jimmy is played by Adam Hagenbuch, a new cast member to the show. It seems that Stephanie isn't aware that Jimmy is a Gibbler when the two kiss for the first time, that is until Kimmy comes into the backyard and she and her brother start doing what can only be described as a Gibbler Dance.
The trailer also includes some old, familiar faces. Danny, Uncle Jesse, Aunt Becky, Joey, and Steve all make appearances in the trailer. (Danny seems to be going through a bit of an identity crisis as he rounds the corner into his sixties.) All of the kids are returning for the season, too. But, the most exciting cast of characters in the trailer are none other than the New Kids On The Block members, which People reported back in August. The boy band (which the characters on the show worshipped), will make a cameo this season — so really there is a lot to be merry about as the cast and show celebrate the holidays and ring in 2017. Fuller House premieres on Netflix December 9, 2017.