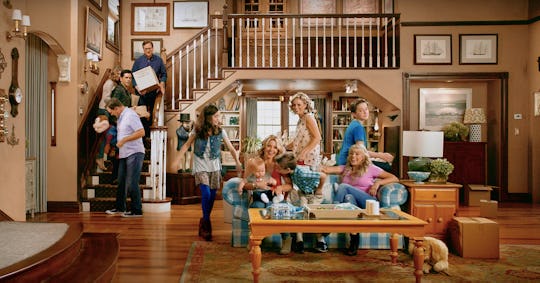 The 'Fuller House' Teaser Is Finally Here & The Tanner House Looks Hectic
Full House fans, get excited — the Fuller House teaser is here, and there's already some familiar faces popping up. Netflix's 14-second teaser (yes, I know, that's it) shows DJ, Kimmy, Aunt Becky, and Uncle Jesse running around with an entire troupe of children. Fourteen seconds is definitely not enough Fuller House time between now and when the first season drops on Netflix on Feb. 26.
The Full House spin-off brings back an all-grown-up DJ Tanner-Fuller, played by Candace Cameron Bure, widowed and living in the same Bay Area house that Full House was set in (feels, anyone?). Her roommates include sister Stephanie (Jodie Sweetin) and best friend Kimmy (Andrea Barber), and other actors from the original show constantly filter in and out of the house. Fuller House also brought in a cast of new child actors to join the show, ranging from 1-year-old twins Fox and Dashiell Messit, who play the youngest child in the Fuller family, all the way up to 13-year-old Soni Bringas, who plays Kimmy's daughter Ramona.
The teaser definitely conveys the hectic fun of the bigger family as the actors rotate around the familiar Bay Area entry room, carrying boxes, juggling babies, and chatting away. I'm pretty sure I spot a dog and a puppet, too.
Guest appearances will include other Full House throwbacks, according to Coming Soon, including Jesse and Becky Katsopolis, played by John Stamos and Lori Laughlin, Joey Gladstone (Dave Coulier), Danny Tanner (Bob Saget), and Steve Hale (Scott Weinger). I'm impressed that so many actors agreed to return, and that they managed to pull the whole thing off 10 years after the original show ended.
One favorite, however, will be missing from the mix. The presence-commanding Michelle Fuller, played by Mary-Kate and Ashley Olsen, will still be a character on the show, even though the fashion mogul twins opted out of the spin-off. "The Michelle character is still going to have a presence. It's not like were not talking about her," Sweetin told Us Weekly in an interview. "I love and support [Mary-Kate and Ashley], and I think we're going to be just fine." Maybe we can expect a "You got it, dude!" call from Michelle Fuller from college or her travels or wherever she may be now and again on Fuller House.
Either way, fans can't wait for the show to drop, and since the entire season will be on Netflix at once, I have a feeling some '90s-show aficionados will be dropping off the radar come late February.
In case Friday's 14-second teaser wasn't enough, fans can always jump back to the teaser released in December, where the show's first peek brought the feels on full-strength. You could hear the Fullers chatting in the background as they returned to their original home, overlaid with Miranda Lambert's tear-jerking The House That Built Me.
Season ones's 13 episodes drop Feb. 26. It was good knowing you, Full House fans — see you when you emerge from your Netflix daze!