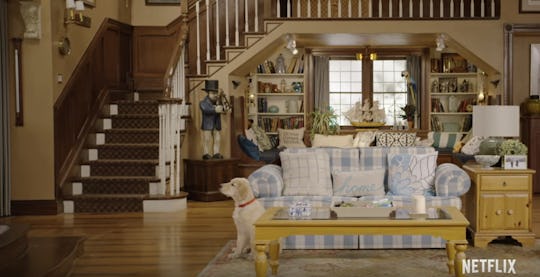 The 'Fuller House' Trailer Is Out & Fans Should Have Plenty Of Tissues Ready
Life will soon be full again. Netflix has released the first trailer for Fuller House, the surprise revival of the popular 1990s family sitcom Full House. While fans of the show wait patiently for Feb. 26 to watch all 13 episodes in one epic binge, Netflix is ramping up the nostalgia by delivering a quick glimpse into the iconic San Francisco home that housed the Tanner family for so many years. Cue all the emotions.
But as much as we'd love to see a complete cast revival — including everyone from Danny Tanner and the girls, to Uncle Jesse, Uncle Joey, and Aunt Becky — the new series has been narrowed a bit. Instead, the storyline will follow DJ, Stephanie, and Kimmy as the three women (sniff, sniff) move into the Tanner home to raise their children together. The other Full House vets may make guest appearances from time to time, though, so perhaps we'll see much of the family under the same roof at some point.
Watching the trailer definitely feels like coming home for true Full House fans. The trailer opens with a shot of the beautiful San Francisco home that '90s kids know so well. The house looks as lived-in and familiar as ever, even though we don't actually see any members of the cast.
Down the stairs trots a dog who looks so much like Comet that it's actually scary. My brain knows that he can't be the original Comet (since that pooch would be nearly 30 years old by now), but the new dog looks so much like the original that I'm going to say he's one of Comet's grandkids. That's the only truth I'll accept.
Anyway, there are suddenly voices at the door and "Comet" rushes to see who's on the other side. In the clip, we hear the voices of DJ, Stephanie, and Danny as they struggle with boxes and keys on what sounds like moving day. The knob jiggles and just as the door is about to open, the clip ends. We hear Danny saying "Welcome home" as Miranda Lambert sings "The House That Built Me."
There certainly isn't a kid who grew up in the '90s who isn't dying for that door to open.