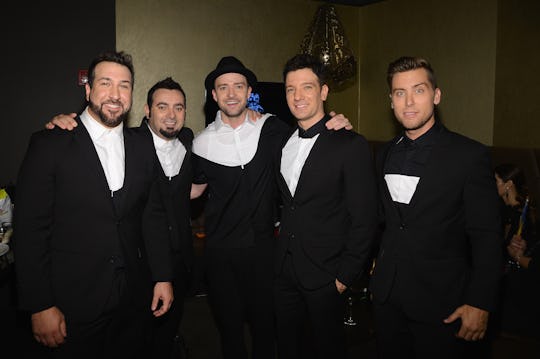 Larry Busacca/Getty Images Entertainment/Getty Images
The Funniest *NSYNC Tweets At Super Bowl LII Prove Hope Is Hard To Kill
For some, Super Bowl Sunday is all about football, food, friends, and family. But for others, Super Bowl Sunday is all about the halftime show. The rest of it? Eh, whatever. And the moment Justin Timberlake was announced as the Super Bowl Halftime Show performer, fans the world over were hoping for an *NSYNC reunion. Well, our '90s-loving hearts are bound to be broken on Feb. 4, 2018, and the funniest *NSYNC tweets at Super Bowl LII prove that the only way to handle heartache is to laugh it off. Or, well, at least hope you won't really be heartbroken at all.
Fans were expecting *NSYNC to fail to make an appearance during the halftime show. On Jan. 23, 2018 TMZ reported that there wasn't going to be a reunion on stage, sighting former boy band member Joey Fatone as a source. The singer and actor was seen outside Delilah, telling TMZ reporters, "I'm here right now. If I was doing something, I'd be at rehearsals right now ... there's your proof." And while there were initial plans for the band to make an appearance, Fatone said they never materialized and that Timberlake was riding "solo." Still, this is 2018 we're talking about. Donald Trump is the president of the United States, three Kardashian-Jenner sisters were all pregnant at the same time, and in Dec. 2017 the pentagon said the existence of UFOS has been proven "beyond a reasonable doubt." Anything is possible, so it's not a "no" until the halftime show is over. So, yes, fans are prepared to hold out hope until the bitter, bitter end.
But with already reported halftime show controversy, and last-minute changes to keep unhappy halftime show fans at bay, *NSYNC fans aren't too thrilled that their favorite '90s boyband's appearance is more than likely not happening. Take a look at just a few of the funny tweets halftime viewers sent in an attempt to mend their broken hearts.
The details of the halftime show have been controversial, to say the least. Over the weekend, and prior to kickoff on Super Bowl Sunday, it was reported that Justin Timberlake had plans to perform with a Prince hologram. The late, great, iconic singer, songwriter, and musician — aptly named The Purple One — was from Minneapolis, Minnesota, and was a die-hard Minnesota Vikings fan. Since Super Bowl LII was played in the Vikings' new stadium, perhaps Timberlake and company thought a hologram performance would have been appropriate. Fans, however, had other ideas. After online backlash ensued, Timberlake reportedly scrapped the plan to perform with a Prince hologram, according to CBS.
So fans know, arguably now better than the pre-Prince hologram snafu, that last-minute changes can, and do, happen. Perhaps in lieu of a Prince hologram, Timberlake will call on his old band members to back him up? Fans are definitely hoping so, at least, according to Twitter. In fact, if you take these Twitter users' words for it, the Super Bowl will be ruined if *NSYNC doesn't show up.
And then, of course, there are the fans who are willing to accept disappointment early on. After the past few years, honestly, there's only so much heartbreak one single human being can take.
And there are those with so-called "inside sources," who are convinced Timberlake lied to our faces. Is this hope, or actual, factual knowledge? Hmm...
Regardless, one thing is for certain: Timberlake has Super Bowl Halftime fans talking. A lot. And really, isn't that what a performance is all about? To set the Twitter world, and beyond, on fire? Mission accomplished, Justin. Mission. Accomplished.
Check out Romper's new video series, Bearing The Motherload, where disagreeing parents from different sides of an issue sit down with a mediator and talk about how to support (and not judge) each other's parenting perspectives. New episodes air Mondays on Facebook.