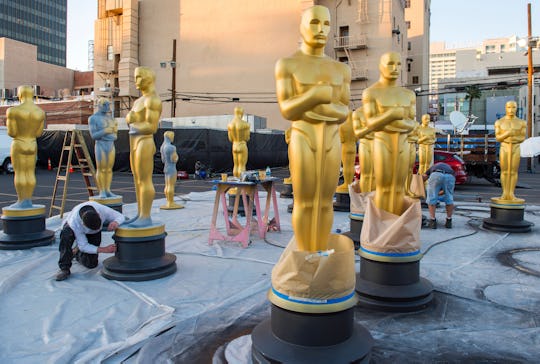 VALERIE MACON/AFP/Getty Images
The Funniest Oscars Tweets Show That Social Media Has The Most Fun
It might be Hollywood's biggest night, but the funniest 2016 Oscar tweets are proof that Twitter knows how to bring their A-game to an awards show. Social media was primed and ready for the show ever since the Academy announced the the nominees in December and the #OscarsSoWhite hashtag campaign took off in response. The lack of diversity when it comes to recognizing people of color and their contributions to both the film and creative community throughout the year is no laughing matter, but with Chris Rock hosting the show on Sunday night, everyone on social media was ready with their own retorts. The Academy asked for it, really.
If Twitter wasn't trying to call out the Oscars for behaving as if there are only white people in Hollywood, they were teasing Leonardo DiCaprio for being so close to finally winning his first Oscar for Best Actor. The overall pomp and circumstance, the odds of Jennifer Lawrence falling again, and ridiculously long acceptance speeches were also opportunities for Twitter to show off its skills.
As with any other time the Twitter-verse gathers around the television to watch celebrities be glamorous (and goofy), snark ensued. In fact, TV Guide put it best early in the evening announcing that the red carpet was starting, so people should get their "witty comments and wine ready." It's an American tradition, really.
Here are some of the better tweets from the night:
On The New 'Thank You' Scroll
All Eyes Are On Leo
They Had Plenty To Say About The Outfits
Wondering About JLaw
And The Award Categories
The Ceremony Overall (And Those Cookies)
As always, it really looks like the most fun to be had was among us common folk on social media.