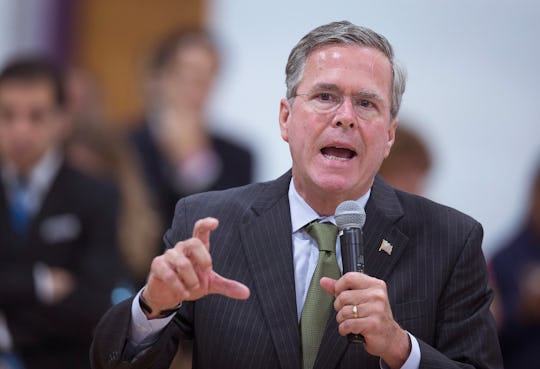 The Funniest Republican Debate Tweets To Make The GOP Showdown A Little More Entertaining
To say the GOP primary debates have been chaotic would be a huge understatement. And tonight's Fox Business/Wall Street Journal debate in Milwaukee has been no exception. There's been a fair share of showboating, cringe, and plenty of tense moments. And social media is on its game — as always — to provide some of the funniest GOP debate tweets. 
Things appear to be shaking up in the broad GOP field. It looks like some people are getting tired of Trump's antics, and media is starting to question Ben Carson's — another frontrunner — colorful stories. And if you weren't aware of these developments, you could clearly see changes at the debate tonight, as New Jersey Governor Chris Christie and Former Fox personality Mike Huckabee have been moved to the undercard debates which aired earlier tonight.
The last debate wasn't well-received by some of the GOP hopefuls. The candidates bashed everything including the CNBC moderators and their questions. Trump expressed dissatisfaction at the length of the event. While FOX Business ran ads that mocked CNBC for how their debate played out, and moderators Neil Cavuto and Maria Bartiromo promised they would stay out of the fray (bless their hearts), there were some points where the Republican nominees went back to their old ways. 
So, what about Twitter? We all know the good People Of The Internet had a lot to say about tonight's performance — and they did not disappoint. Here are some of gems and truth bombs they tweeted during the #GOPDebate:
The Hilarious
The Honest
The Thought-Provoking
The Hillary
Thank you, Twitter. See you Saturday.
Image: Scott Olson/Getty Images