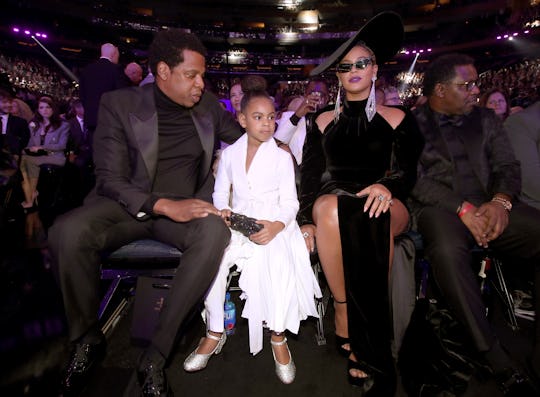 Christopher Polk/Getty Images Entertainment/Getty Images
Funniest Tweets About Beyoncé At The 2018 Grammys Prove The Internet Actually Can't Handle Her Presence
Beyoncé has ~arrived~. After skipping out on the red carpet, people thought that Beyoncé would never show at the 2018 Grammy Awards, but she did, appearing in the audience halfway during the show. Fans were relieved, and the funniest tweets about Beyoncé at the 2018 Grammys prove that no one could handle her presence.
Having endured the GlamBot, those watching the awards show needed some Beyoncé, and she definitely delivered. And though she showed up to the Grammy Awards fashionably late, she showed up in style. Beyoncé looked absolutely gorgeous in her black velvet dress, black hat, and sunglasses to block out everyone criticizing her for not showing up sooner. Beyoncé and JAY-Z's six-year-old daughter Blue Ivy made an appearance at this year's Grammy Awards alongside her mother, looking super adorable in a white dress that contrasted her parents' dark attire.
But, as with all events Beyoncé attends, all eyes went to the Queen, and Twitter was quick to cook up zingers and reaction gifs about her appearance and the fact that she showed up a little late to the awards show. The sheer magitude of her presence gave life to the Twitterverse and almost had us forgiving her for keeping her newborn twins on the DL. It's unfair how great Beyoncé looks.
Others noted that Beyoncé looked like she was play-acting her husband's murder. Or *a* murder.
The setup of, oh yeah, the THREE STARS OF 4:44, was almost too much for some people.
Naturally, there was also fanfic happening.
It's hard to believe that just one year ago at the Grammy Awards, Beyoncé was pregnant with twins, and gave one of the most visually stunning performances to grace the Grammys stage that night. JAY-Z and Blue Ivy were there in the audience to cheer her on and offer their support, of course. But this year, everything is a bit different.
Beyoncé gave birth to those twins, a daughter Rumi, and a son, Sir, in the summer. Instead of attending the Grammys for herself to see if she would win any awards, Beyoncé was there to support her husband, JAY-Z after his own incredible year. After JAY-Z's album, 4:44 debuted over the summer, it earned him the most Grammy nominations of the night — 8 nominations — including nominations for "Best Rap Album" and "Song of the Year." Although Rumi and Sir might have been with Beyoncé at the Grammys last year, they were (unfortunately) not in attendance and did not make their big debut (maybe another day).
But if fans couldn't have Rumi and Sir show up, then they at least had Beyoncé's presence to make up for it, especially since people were afraid that she was not going to show. It's a good thing she did, because fans were super excited over her presence.
Although Beyoncé might not have gotten any awards tonight (other than Best Dressed), she has plenty of Grammy Awards to take care of that. Between her solo career and her time with Destiny's Child, Beyoncé has won 22 Grammys and been nominated for 63 of them, so she probably isn't too worried that she can't accept any awards tonight.
In a speech given at Clive Davis' Pre-Grammy gala night before the Grammys, JAY-Z revealed that after a loss at the Grammy's in the late 1990's, he "boycotted" the Grammys for six years, according to People, but cited Beyoncé as the reason for his return in 2004. "My first time coming back, six years later, [was] for the Crazy in Love album with the beautiful Miss Beyoncé," JAY-Z said during the speech. It's a good thing that Beyoncé made JAY-Z come back to the Grammy's because now, 14 years later, we can get these incredible appearances and looks from the king and queen of the music industry. Without them, not only would there be a severe lack of good music, but there would be no one to make hilarious memes of or steal style inspiration from.
Thank goodness for Beyoncé and JAY-Z.
Check out Romper's new video series, Romper's Doula Diaries:
Watch full episodes of Romper's Doula Diaries on Facebook Watch.