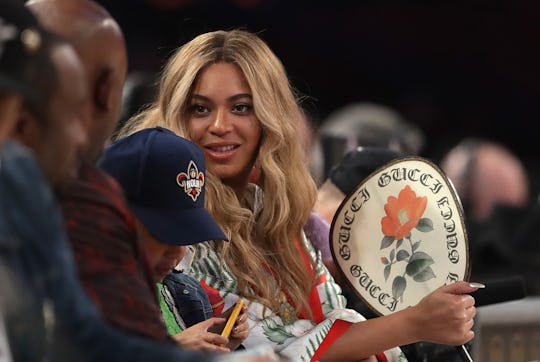 Ronald Martinez/Getty Images Sport/Getty Images
Just Some Hilarious Tweets About Beyoncé's Twins Photo
The twins are here! Now that it's official-official, Beyoncé fans everywhere are celebrating the news appropriately — or at least as appropriately as you'd expect. And the funniest tweets about Beyoncé's twins are further proof that the Beyhive has been waiting a very long time to throw this party, so you should probably just let them live.
In true Bey-fashion, the queen of, well, everything, took to Instagram to announce the happy news in a post on Friday morning, around 1 a.m. Eastern Time (or just before midnight on Thursday in Malibu, California, where she, husband JAY-Z, 5-year-old daughter Blue Ivy Carter, and the new family additions currently reside). "Sir Carter and Rumi 1 month today," she wrote in the caption of a beautiful photograph, featuring Bey herself holding her sleeping twins in her arms. The singer is seen wearing a flowing purple, pink, and blue floor-length robe and a sheer aqua veil, reminiscent of the light, seafoam green veil she donned in her initial pregnancy announcement back in February. Fittingly, she captioned the most recent Instagram post with a set of people-emojis meant to represent herself and the rest of the Knowles-Carter household (the twins included).
Within minutes of her post, fans had liked and commented millions of times (as of this story's publication, the photo had racked up more than 2.2 million likes... naturally).
"Omg I am dead," one fan commented. "You know I'm crying real tears right now," joked another. Over on Twitter, the sentiment was equally out of control.
Some fans were a bit overwhelmed:
Others were more focused on the finer details:
A few were busy trying to figure out why Queen Bey had written the twins names the way she had:
... And some were simply concerned about how this affected their lives:
And finally, there were those who simply wanted to use the moment to express themselves artistically (bless):
Given the caption on Beyoncé's post, it's safe to assume the babies were born either on June 13 or 14 (given that Bey posted the image just before midnight Pacific Time, it's anyone's guess). Initial reports of the twins' birth then, on June 17, were nearly spot on.
While it's safe to assume the Knowles-Carter household has been using the past month to get used to life with two new additions, the internet has only just started to come to terms with the idea of Beyoncé/JAY-Z twins, now that the news is official. Maybe just give fans a little breather and things will start to settle down.
Then again... nah. They probably won't.