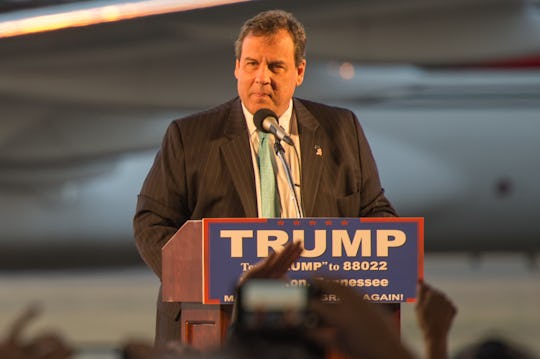 MICHAEL B. THOMAS/AFP/Getty Images
The Funniest Tweets About Chris Christie At Super Tuesday Said He Was Being Held Hostage
Donald Trump dominated in most polls across the country on Super Tuesday — the biggest voting event of the election season. In a really weird twist of events, former Republican presidential candidate and New Jersey Gov. Chris Christie introduced Donald Trump before he spoke to his supporters at his campaign headquarters. Then, Christie awkwardly stood behind Trump, almost looking afraid, while Trump spoke to voters. The funniest tweets about Christie at Super Tuesday with Trump make it clear that Christie must've been held hostage or something.
Christie dropped out of the GOP race for the nomination last week and he endorsed Trump in the same day. It was weird — so weird that a top New Jersey newspaper retracted its previous endorsement of Christie because of his endorsement for Trump. Trump had won six states around 10 p.m. on Tuesday, and he was project to win a couple of more, though Texas Sen. Ted Cruz was giving him a run for his money.
During his speech, Trump hit all his normal talking points: we'll build a great wall, Planned Parenthood is good but I'm pretending to a be a conservative — all that stuff. And Twitter noticed that Christie looked really uncomfortable. He almost looked like he was being controlled by the Trump campaign or something. Of course, hilarity ensued on Twitter:
Christie was either really hungry, worried that maybe he didn't turn off the coffee maker before he left the house, or seriously regretting his decision to support Trump. Or, more interestingly, he was being mind controlled! *Evil laugh* I doubt it's that last one, but that's what Twitter thinks, for sure.