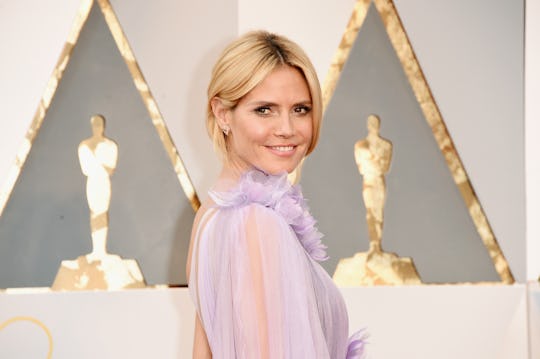 Jason Merritt/Getty Images Entertainment/Getty Images
The Funniest Tweets About Heidi Klum's Oscars Dress Revealed How Fans Felt About Her Look
It's no secret that the Academy Awards red carpet is just as important (if not more so) than the award show itself. From who showed up with whom, to who showed up wearing what, the Oscar's red carpet is an event in and of itself. While most slayed the Oscars pre-show, some, unfortunately, did not please everyone. Heidi Klum showed up in what many people are calling a questionable number and, well, the tweets about Heidi Klum's dress says it all.
The super model-turned-reality show host walked the red carpet in a lilac Marchesa gown, half sleeveless, half long-sleeved, and 100 percent completely and totally wrong by a lot of people's standards. Obviously fashion is entirely subjective, but I didn't love this look on Klum. The lone long-sleeve is being said to age the gorgeous model (yeah, right, like that's even possible), and the accent flowers on her shoulder and her waist definitely did not help. Couple the top half of the gown with the bottom half of the gown and somehow the gown looked far too whimsical and childish for the Oscars red carpet. The fashion misstep wasn't lost on viewers, especially since most tune in early to see what their favorite Hollywood stars are wearing and, well, most were not inspired by Klum's dress. Jokes and negative comments were aplenty, as red carpet viewers took to Twitter to poke a little fun at Klum.
Here are just a few of the funniest tweets about Heidi Klum's disaster dress. Hey, there's always next year, Heidi.