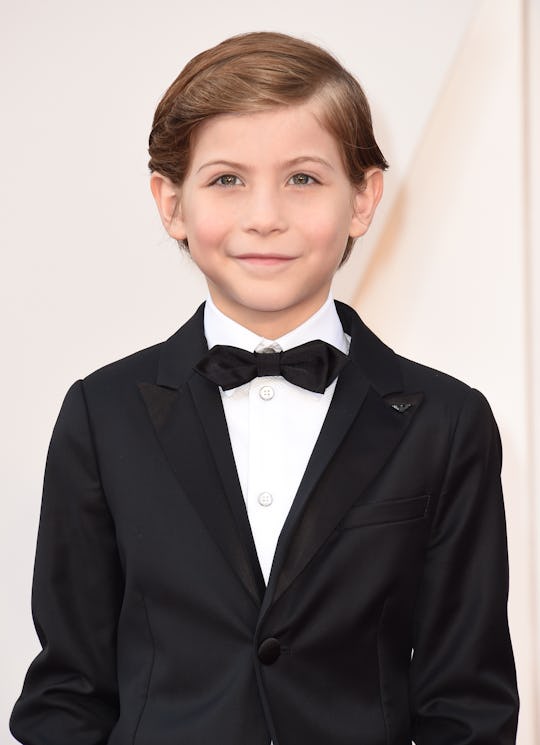 VALERIE MACON/AFP/Getty Images
The Funniest Tweets About Jacob Tremblay's Dad Prove He Really Is "Hot Dad"
Although it's usually something Jennifer Lawrence says or the way Ryan Gosling just is that rules the red carpet, the tweets about Jacob Tremblay's dad prove who the real winner was at the 2016 Oscars this year. On Sunday afternoon, Jacob Tremblay and his parents took a selfie in their car on the way to the awards. Everyone loves the young actor from Room, but Twitter was totally swooning over his dad. Because he is a total babe. Ever since Tremblay's dad walked the carpet with his son at the Golden Globes, he has been known as "Hot Dad." Tremblay even said on the The Ellen Degeneres Show that even his mom calls him by that now. (Can you blame her?)
Hot Dad is still nameless on the Internet, but we do know that he is a police detective in Vancouver, British Columbia, Canada, which somehow makes him even hotter. It's true, right? It's hard to decide if he looks better in a tux or his work clothes. He also just seems like a really nice person (as does Tremblay's mom, who, I guess you could call Hot Mom). I mean, they made Jacob Tremblay, who is quite possibly the sweetest child in the world. Tremblay's dad is not just a good red-carpet date, he also monitors the kid's social media accounts so he totally knows we're all crushing on him. (Hi, Hot Dad!)
Here are some of Twitter's best offers of the night:
Bachelor, Anyone?
The Oscar Statues Should Be Sculpted In His Likeness
The End Of Award Show Season Is Sad For A Whole New Reason
We Need A Hot Dad Oscar Award
Hot Dad Is Really Important To Everyone
Let's just hope that Jacob keeps getting big enough roles this year to ensure his return to the red carpet in 2017. And that he brings his dad.