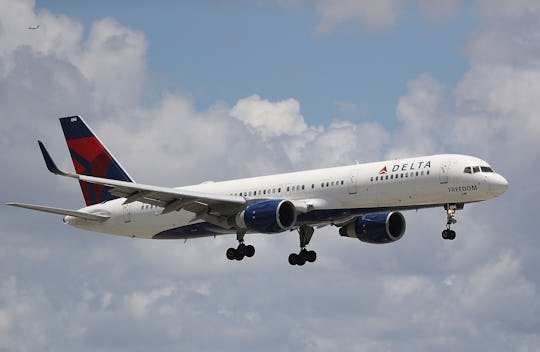 Joe Raedle/Getty Images News/Getty Images
The Funniest Tweets About The Delta Outage Will Take The Edge Off Of Your Flight Delay
Airline travel always seems to be fraught with some kind of unforeseen complication, but for passengers scheduled to fly Delta Airlines, well, this one's a real doozy. According to CNN, the airline has announced that "global computer system outage" has led to a seemingly endless string of problems for the airline (the second largest in the world), meaning that the bulk of Delta flights scheduled to depart Monday have been grounded. This has no doubt led to many disgruntled passengers, but as usual, Twitter is buzzing with some clever commentary in response. If there's one thing to learn from the funniest tweets about the Delta outage, it's probably that sometimes, the best thing you can do is make a joke.
The latest word on the massive computer glitch is that it stemmed from a power outage at the airline's Atlanta hub early Monday, around 2:30 a.m. Eastern Time. With computers down, according to NBC News, passengers aren't able to check in, find any information about their flights, and can't even get printed boarding passes (in some instances, ticket agents have had to write them out by hand). This, of course, has translated into long lines, canceled flights, and a ton of people stuck at the airport with no idea when they will be able to make it to their destination. Not helping matters any is the fact that non-Delta computer systems are showing flights as scheduled and on-time. According to CNN, the airline told passengers,
We are aware that flight status systems, including airport screens, are incorrectly showing flights on time. We apologize to customers who are affected by this issue, and our teams are working to resolve the problem as quickly as possible.
It might still be a while before that chaos of the Delta outage subsides, but in the meantime, the good news is your still have the Twitterverse to make you laugh.
Naturally, there are the "are you sure it's plugged in?" jokes:
(That's probably the solution, right?)
Then there are the "OMG we are going to be stuck here forever" tweets:
And the jokes about the IT people who are probably hating their entire lives today:
And, of course, the general loathing towards Delta that many are feeling today:
There's no doubt that the Delta system outage is pretty much the worst (I'm going to say a special prayer for all the parents out there traveling with young kids — yikes!). But while taking some shots at the airline is fair game (even if it accomplishes nothing), just try to remember that the Delta airport staff are probably just as miserable about this as the passengers are, because, let's be honest, they're the ones who usually end up taking the brunt of everyone's frustrations.
Hopefully the Delta outage will be resolved soon — although of course that won't do a whole lot to make up for all the missed flights and hours spent waiting in airport terminals. But hey, at least there's always Twitter to keep you company.