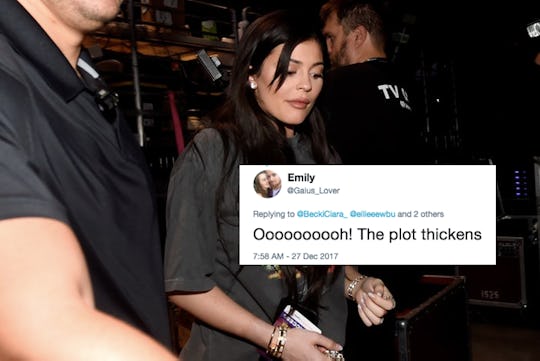 David Becker/Getty Images Entertainment/Getty Images & @Gaius_Lover/ Twitter
Twitter Is Losing It Over Those Paparazzi Photos Of Kylie Jenner's "Baby Bump"
Obviously, pretty much every member of the Kardashian-Jenner family is a mastermind when it comes to grabbing our attention. Enter the youngest member of the famous family, Kylie Jenner and all those rumors surrounding her alleged pregnancy. And now, with some old photos of an allegedly pregnant Kylie having resurfaced, the funniest tweets about those paparazzi photos of Kylie's "baby bump," are sorta, kinda, totally on point.
As you probably (definitely) already knew, the 20-year-old is reportedly expecting her first child with boyfriend Travis Scott. But, since the news of her pregnancy broke in September, neither Kylie nor Travis have so much as spoken about the rumored pregnancy, or even hinted at it. Because of this, many fans have been concerned that the news may have been fake, or nothing more than a ruse to get more people talking about the family or watching their show, Keeping Up With The Kardashians.
But, recently, some photos of Kylie allegedly sporting a "baby bump" have resurfaced, which has sent the internet into a virtual frenzy. The photos in question are reportedly from September, published by X17, which is when Kylie's baby news first broke. But for some reason, people are just now discovering them. And because of that, Twitter has gifted the world with some seriously hilarious responses to the pics.
Some People Were Just Really Puzzled About The Timeline
As X17 reported back in September, the photos of Kylie are from when she threw her best friend, Jordyn Woods, a surprise birthday party. And while the photos themselves are blurry and could really be not even showing a "bump" at all, fans are just excited to have something resembling proof of Kylie's rumored pregnancy.
Seriously, people on Twitter were confused as to what the photos of Kylie mean. If they are, in fact, real and do indicate that Kylie was pretty far along back in September, could she be due sooner than previously thought? Back in September, when the news of Kylie's pregnancy was first revealed, her sister, Khloé Kardashian was also reported to be pregnant at the same time.
Now, Khloé has since confirmed her happy news, and also revealed that her due date is some time in March 2018. But back when the news was still new, a source revealed to People that the sisters were actually due around the same time. "Kylie is over the moon about her pregnancy. Khloé and Kylie are both due around the same time. They are approximately four months along," the source told the publication.
Fans Were Also Ecstatic AF
But Some Fans Were Just Relieved That The Wait *May* Be Over
Meanwhile, Another Fan Had A Rather Unique Observation
But One Fan Had The Most Perfect & Most Accurate Response Of All
Really, though, it seems as though fans are just anxiously awaiting the day when Kylie actually says something about her own pregnancy. Because honestly, it's been over three months since the news first broke, and the beauty mogul has remained dedicated to her silence on the matter, and so has her family.
In fact, even momager Kris Jenner has gone on the record to downplay any sort of hints that people may have analyzed as pregnancy confirmation from her or anyone else in the family. And sister Kim Kardashian has even gone so far as to drink a sardine smoothie in order to avoid having to talk about the rumors on the The Late Late Show with James Corden. And on another appearance on The Ellen DeGeneres Show, Kim also took a stand:
When there are lots of rumors, we have this family group chat and we threaten each other's lives if we speak for the other one...We just decided there's so much that goes on that we respect each other's right to speak for themselves, so I will speak about myself. Hopefully they can come on and address whatever rumors you might have.
If Kylie wants her pregnancy to remain on the down-low, then that's totally up to her. But if those photos of her are indeed authentic, then they were obviously taken without her permission and that's certainly not OK. Whatever the case may be, it's clear that fans on Kylie Jenner Baby Watch 2017 are still just as invested as they were months ago.
Check out Romper's new video series, Romper's Doula Diaries:
Watch full episodes of Romper's Doula Diaries on Facebook Watch.