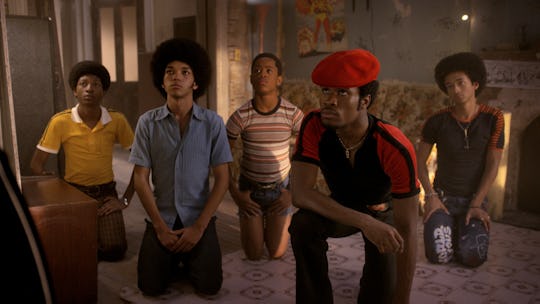 Netflix
'The Get Down' Cast Roundup Proves This Cast Is Majorly Talented
Baz Luhrman is making his Netflix original series debut with this summer's forthcoming period musical drama The Get Down, which follows the nascence of hip hop in 1977 New York. Set in The Bronx, it follows the story of Ezekiel "Books" Figuero, a would-be MC who teams up with a budding DJ named Shaolin Fantastic to create a hip hop group called The Get Down Brothers. Shao is under the tutelage of Grandmaster Flash, and the series has plenty of hip hop legends working behind the scene to lend a dose of realism to Baz Luhrman's grandiose spectacle style of direction. The real Grandmaster Flash, Nas, rapper Kurtis Blow, and hip hop historian Nelson George all have producer credits on the series. Playwright Stephen Adly Guigis also holds a co-creator credit alongside Luhrman.
While Ezekiel and Shao anchor the group, there are plenty of talented young actors on board rounding out Ezekiel's friends. Skylan Brooks and T.J. Brown Jr. play brothers Ra-Ra and Boo-Boo Kipling, along with Jaden Smith, who lands a guest-starring role as Marcus "Dizzee" Kipling. Hamilton's Daveed Diggs also briefly appears as a grown-up Ezekiel in a flash forward, recounting his early life to a stadium of adoring fans, giving us a glimpse of his success to come.
Here's the rest of The Get Down cast to watch out for.
Justice Smith
Justice Smith landed himself the lead role of Ezekiel "Books" Figuero, the leader of a group of teens who team up with DJ Shaolin Fantastic to start making music. You might recognize Smith from his recent turn as Radar in Paper Towns. The Get Down is set to be the 21-year-old actor's breakout gig.
Herizen Guardiola
Another star getting her formal introduction from The Get Down is Herizen Guariola, who plays Mylene, a singer stuck in her father's church choir, dying to become a disco star. She also happens to be the object of Ezekiel's teenage pining, but boys don't deter her fierce ambitions any more than her father does.
Shameik Moore
Shameik Moore plays Shaolin Fantastic, the graffiti-artist-turned-DJ who becomes a protégé of Grandmaster Flash before imparting his lessons on the other teens. Moore comes to the series straight off playing Malcolm, the lead role in one of last year's (outrageously Oscar-snubbed) films, Dope.
Yahya Abdul-Mateen II
Yahya Abdul-Mateen II plays Cadillac (whose mom is a gangster and club owner who happens to be sleeping with Shao), a romantic foil for Ezekiel. Though he's a gangster in his own right, with plenty of coke and a gun in tow, Cadillac is also smitten with church girl Mylene. We'll see Abdul-Mateen in next year's Baywatch reboot, too.
Jimmy Smits
Jimmy Smits plays Francisco "Papa Fuerte" Cruz on The Get Down, a city council member whose dreams of public servitude outshine The Bronx. Smits most recently enjoyed stints on Sons of Anarchy (as Nero Padilla) and Dexter (as ADA Miguel Prado), but for those of us who worship at the altar of Aaron Sorkin, Smits is better known as the beloved Matthew Santos, the president who succeeded Jed Bartlet on The West Wing. He also spent several seasons each on NYPD Blue and L.A. Law.
Giancarlo Esposito
Giancarlo Esposito plays Pastor Ramon Cruz, Mylene's oppressively religious father who refuses to let her begin a music career in earnest. (He's the one self-righteously proclaiming "No daughter of mine is going to sing disco!" in the trailer.) Esposito has enjoyed a prolific, decades-long acting career (including a stint on Sesame Street in the early '80s!), though most folks will probably recognize him as Gustavo "Gus" Fring from Breaking Bad. He's appeared more recently as Magic Mirror and The Genie in ABC's Once Upon a Time.
As you can see from the ambitious cast, The Get Down is poised to follow up Stranger Things as Netflix's next summer hit. It's set to premiere Friday, August 12.