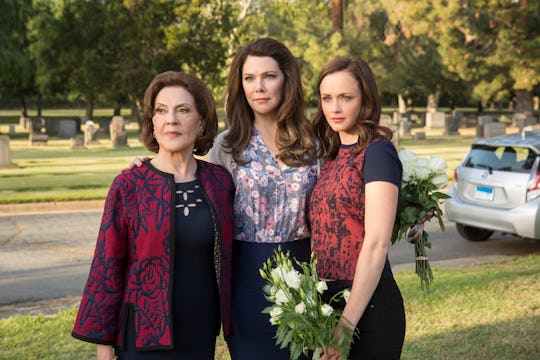 Robert Voet/Netflix
The 'Gilmore Girls: A Year In The Life' Cemetery Photo & 5 Other Hints Of What Is To Come
Well folks, we are just a little over two months away from the Netflix premiere of Gilmore Girls: A Year in the Life, the revival of the beloved series that comes nine years after the show technically ended. While we all sit and fret and chew on our hair in anticipation, at least we have the trickling and teasing release of production stills to tide us over until the big day. The Gilmore Girls cemetery picture, for instance, was recently released and is absolutely heartbreaking. This is just the latest hint about what's to come that we can glean from the released photos.
Obviously, the death of actor Edward Hermann who played Richard Gilmore in 2014 was a huge blow to everyone who knew and loved him, and everyone who knew and loved his character. Show creator Amy Sherman-Palladino has said that she wanted the revival to honor Hermann, and it looks like our three Gilmore girls will be visiting his grave at some point. Based on the clothes and the foliage, I'd say this cemetery visit will be happening in either the spring or fall episodes. As always, the incomparable Kelly Bishop is all stoicism and barely suppressed emotion while standing beside her daughter and granddaughter. Are you crying yet? I'm crying. Here is another look at that heartbreaking photo.
Here are some other tidbits of information we can squeeze out of the other stills Netflix has released thus far.
1. Friday Dinners
With or without Richard, if this shot of Rory and Emily standing beside the drink cart is any indication, Friday night dinners are still very much a thing. But these days Rory can drink martinis with Lorelai rather than her usual demure club soda.
2. The Stars Hollow Musical
Stars Hollow is still very much Stars Hollow. I don't fully understand Rory's outfit here, and I'm not even going to try to imagine what hippie-themed shindig we're celebrating here, but I'm sure I'll love it come Nov. 25, when the show is released.
3. No Cell Phones
Lorelai is still the worst when it comes to cell phone etiquette — girl, you are at the movies! Take it outside! — but other than that this photo is distressingly cryptic. It's Lorelai, so she may have just learned some truly serious news about Luke, or it could be Taylor on the other line chastising Luke for an anachronistic Halloween decoration. Who knows, really.
4. Rory's Future
So Rory is at Chilton, standing in front of a classroom, with a board with notes on Jane Eyre behind her. Either Rory is teaching at Chilton, or she's there to speak with the students as an alumnus, or she just wandered into an English class at Chilton while taking a nostalgic tour of her alma mater. Either way, it will be interesting to see just how full circle the revival becomes.
5. The Pop-Tarts
Other than the fact that Lorelai's kitchen walls seem to have acquired more nicknacks over the years, the two ladies sitting a table with Pop-tarts, ice cream, Chinese take-out, Red Vines, and coffee prove that even after all these years, not much has changed. I, personally, can't wait to be reunited with these two in just a few short months.