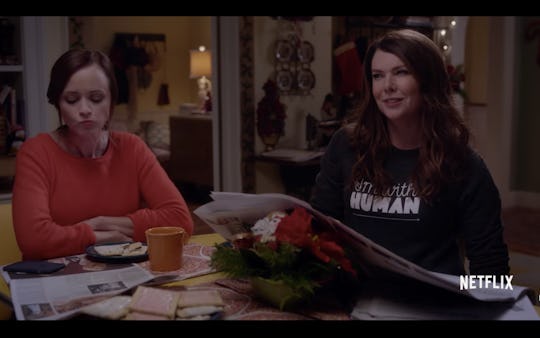 The 'Gilmore Girls: A Year In The Life' Trailer Is Here, & Yes, It's Amazing
What a wonderful day it is, Gilmore Girls fans. After many, many — did I say many? — years of waiting for this very moment, we can now die happy. Netflix has finally released the teaser trailer for Gilmore Girls: A Year in the Life, and it is just as amazing as you'd expect it to be. I'm talking pop culture jokes, I'm talking witty banter, I'm talking coffee. Seriously, things can't get much more real than this moment, so prepare yourself for all the feels, all the nostalgia, and all of those Team Logan/ Team Jess battles, because things are getting very, very real.
Now, it's been a hot second since the show went off the air — almost 10 years to be specific — so I imagine that things will not be exactly where they left off in 2007's Season 7 finale. With that said, you'd think no time passed at all. The town looks the same, the music feels the same, Lorelai has Christmas lights up in the background of her house, and she and Rory are drinking coffee and eating Pop Tarts. Seriously, this might as well be 2000, when the millennium met such a dynamic duo.
Netflix has confirmed a release date for the series — which will be broken up into four 90-minute segments. Fans have until November 25 to rewatch and indulge before welcoming the new episodes into their lives. That's not even that far away, so get to watching. But first, watch the teaser trailer for the show, because you know you want to.
In the trailer, the mother-sister duo are back to their usual doings — drinking coffee and talking about the important things in life. This time, it's would Amy Schumer like me, from Lorelai (which is a very important question). These are the important questions, people!
So, given the date that Netflix has released, we're looking at just a short while until we are able to travel back to Stars Hollow. But there's still a lot of questions left to be answered. Who is getting married? Who is Rory with? What is going on with Luke's Diner? What is happening with Jess and Rory? We only have to wait until November 25 to find out.